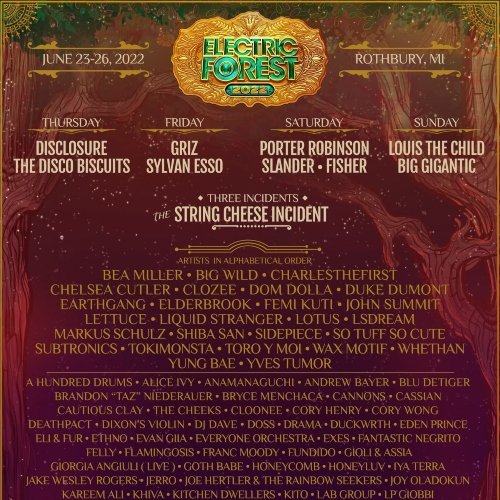 The moment we've been waiting, Electric Forest has officially announced our much anticipated return to Sherwood Forest! Forest Fam is set to be dancing their way through Double JJ Ranch June 23-26, 2022.  Ticket sales have been announced as well as the lineup for Electric Forest 2022.
Ticket holders from the canceled years prior still account for most of the capacity for tickets, so there is only a select number that will be made available this Friday, December 10th at 10am EST. See what EF HQ says about the much anticipated sale;
At this time, the available Wristbands are General Admission, Maplewoods, Good Life Village, and the Cherry Orchard. Tuesday Load-In and Wednesday Early Arrival, Single Occupancy Arrival Passes, and Good Life Brunches will also be on sale. Layaway Payment Plans will be available for all purchases.
With wristband inventory for 2022 as limited as it is, the best plan is to plan ahead…
Log in to your Ticketing Account in advance
Review Layaway Payment Plan Options
Mark your calendars for December 10 at 10 AM Eastern
To be transparent, it is expected that wristbands will sell out very quickly. Forest Family looking to purchase verified 2022 wristbands who are unable to get them during the December 10 On Sale are encouraged to use the Official Wristband Exchange.
Electric Forest 2022 Tickets
Along with the exciting news, we have officially received a line and soundtrack ya'll; and boy is it looking to be an amazing weekend filled with endless tasty tunes!  With sets from world renown artists and bands, we will see a healthy dose of House, Freeform Bass, and everything in between.
Relive the memories of previous years with this beautiful short documentary. Be sure to  stay tuned for more information on Electric Forest 2022 on ThatDROP.com, such as additional artists on the lineup as well as activities, Silent Disco, Daily Yoga, Curated Events Series, and more!
Follow Electric Forest:
Facebook | Website | Instagram | Twitter