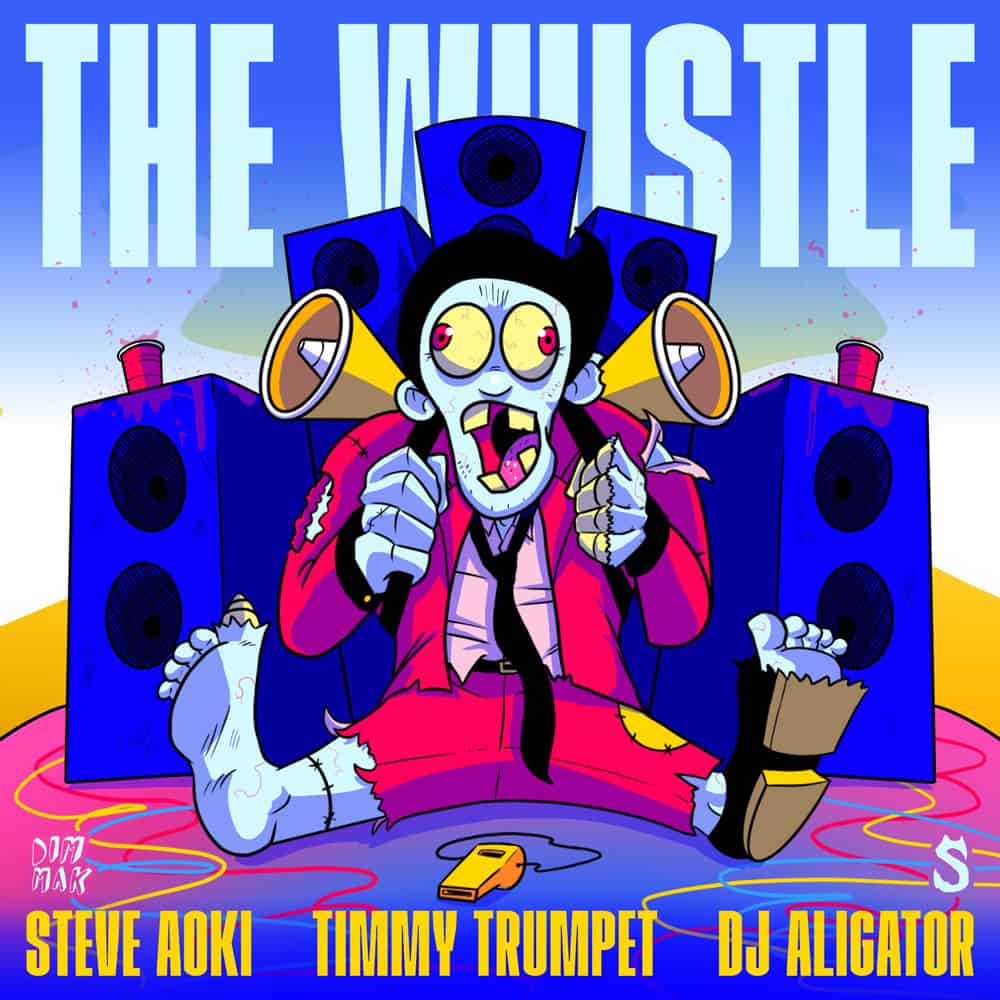 The last few months have seen the long-awaited global resurgence of our beloved festivals from every corner of the globe, and no one is as busy as this dynamic duo. Just last weekend Timmy Trumpet joined Steve Aoki on the mainstage of Tomorrowland where they dropped this mammoth tune that has been rocking dance floors all summer.
Known for their prolific performances, both artists are synonymous with world-class entertainment, captivating every inch of the crowd from the front to the back. Steve first showcased "The Whistle" at Tomorrowland Winter '22 and ever since the track has been a highlight of both Aoki and Trumpet's individual sets as solo artists. Their electrifying production styles have transformed the iconic track into a hard dance banger, with unmatched energy, bounce and big room brilliance.
Iranian Danish Producer, DJ Aligator first championed his creation of the "The Whistle Song" in the early 2000's smashing the charts in numerous countries including the coveted number one spot in his homeland of Denmark. Ahead of its release, the monster rework has already taken over dance floors at global party hotspots from Ibiza to Las Vegas. Make no mistake, this is THE party anthem of 2022!
Released simultaneously by both Steve Aoki's Dim Mak Records and Timmy Trumpet's SINPHONY alongside Spinnin' Records, "The Whistle" is out now and streaming everywhere. The official music video premieres this Massive Monday via Spinnin's YouTube channel and features exclusive live footage from the summer madness so far.
"The Whistle" will be featured on Aoki's highly anticipated record HiROQUEST: Genesis, which comes out September 16th and includes additional collaborations with Taking Back Sunday, Kane Brown, Mod Sun, PnB Rock, Georgia Ku, Bryce Vine, Santa Fe Klan, Lil Xan, Goody Grace, and more. As part of the album release, Aoki is continuing his relationship with MetaZoo Games to create limited edition playing cards available with the purchase of HiROQUEST CDs. The CDs and digital album are available for pre-sale, along with more information on the MetaZoo collaboration at www.HiROQUEST.com.