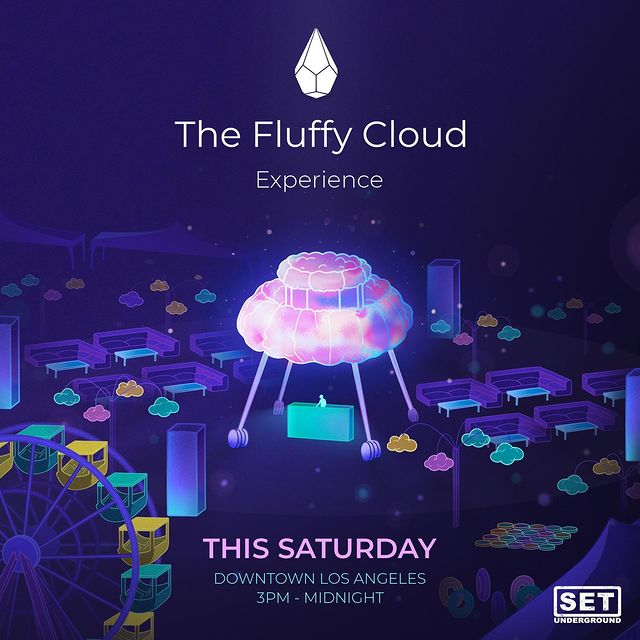 The Fluffy Cloud originally formed from blood, sweat and tears over the Black Rock Desert during Burning Man 2019 to rain down 6 full nights of music with extended sets by artists such as Township Rebellion, Teenage Mutants, Art Department, Pasquale, Diplo and Flume.  The radically new live art experience, towering 3 stories in the air, featuring the worlds first and only immersive spherical sound system, packing 28 point source cabinets for unmatched sound fidelity, hitting bone-shaking frequencies 32% lower than any other system in the world and glowing with over 33,000 sound reactive LEDs is now coming over Los Angeles this Saturday, Oct 9th at an undisclosed location.
Tethering music, wellness, games, interactive art and so many more surprises, the experience will open with a acoustic immersion and wellness practice under the Cloud's ultra low-frequency sound system led by some of the world's leading practitioners in sound therapy and mindfulness.  Following, a revered lineup will showcase a range of deep house and melodic techno beginning with Haut's Live Ensemble then Lauren Mia (Anjunadeep), Yulia Niko (Crosstown Rebels), Sainte Vie (Akumandra) and Mind Against (Afterlife).
The Makers of The Fluffy Cloud, Jorge Perdomo, Deniz Akyurek and Gene Harrison, share their vision, "we believe shared live experiences are at the root of communities. But the common front-to-back experiences found in live events today result in environments where interpersonal connections are limited. We cannot connect with others if staring at the back of their heads. An exercise in art and extreme engineering, The Fluffy Cloud was designed to foster a more interconnected space via the creation of the world's first and only fully 360° sound and light experiences. Unlike some other partially circular experiences, only the Cloud offers a fully immersive spherical experience where audience's views are complete uninterrupted in all directions while being bathed in 60,000 watts of tier-1 sound capable of hitting frequencies as low as 28Hz. From full fledged festival-grade concerts, to small scale family-friendly light and soundscapes, we strive to create special connected experiences people will never forget.
That's in real life at least, we also have a virtual version of The Fluffy Cloud which we can do lots of cool stuff with. It's kind of crazy. But its fun. We're making it up as we go 😉
But why?
We do it because we want to make magic for people. We do it for the look of wonder in people's eyes as they experience something unlike they've ever seen before. For the smiles. The laughter. The tears. The love. We do it for our community. Along the way, we hope to be able to use the Cloud as a force for good, bringing people together and creating special experiences where we can use to teach the the 10 principles of Burning Man:
Civic responsibility (this is our favorite!)

Radical inclusion

Radical self-expression

Participation

Immediacy

Gifting

Radical self-reliance

Communal effort

Leaving no trace
And as for the 10th principle, decommodification? Well, we love that too, but someone's got to pay the bills, so we reserve that for our time in the desert, while we're outside, we will do our best to minimize the amount of commodification we have to do to keep the flame alive while still making a living."
The Los Angeles installation will also be a fundraiser for Burning Man 2022.  There are three tiers for ticket options, General Admission, table service and a limited number of Fluffy Passes are still available.  The Fluffy Pass Perks include access to go up into the Cloud itself, "backstage" area that includes a dedicated bar, chill zone, nicer bathrooms, and a chance to hang out with the performing artists themselves and access to a dedicated check-in for accelerated entry.  Watch the making of The Fluffy Cloud and the aftermovies to Burning Man and Art Basel 2019 as well as Love Burn Regional 2020.
Stay tuned for more in-depth coverage and keep in mind, The Fluffy Cloud organization is open to collaboration ideas.
The Fluffy Cloud: