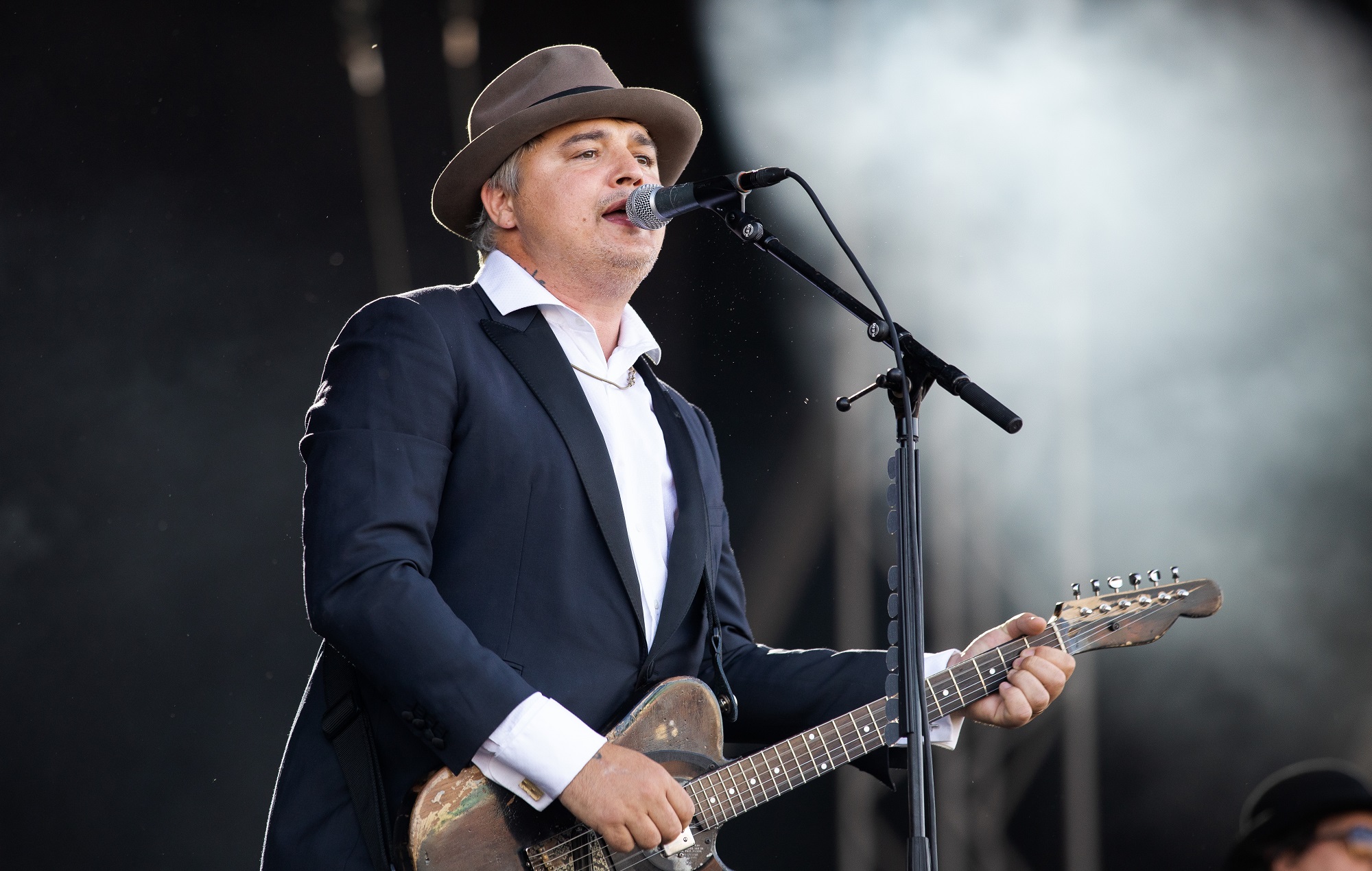 Pete Doherty performed a section of The Pogues' 'Dirty Old Town' in Ukrainian on The Last Leg last night (February 24) – see a snippet below.
The singer was appearing on the show, hosted by Adam Hills, on the one year anniversary of the Russian invasion of Ukraine.
To close the show, he performed 'Dirty Old Town' solo, incorporating the Ukrainian language into its final chorus.
He ended the performance by exclaiming "Slava Ukraini!" which translates as "Glory to Ukraine!"
Watch the performance below.
A really lovely touch by @petedoherty performing Dirty Old Town in Ukranian. Also lovely to see he seems to have fought the demons that have haunted him for past 2 decades. Well done Pete.pic.twitter.com/B6cbuc2AN1

— Scotty (@arghkid) February 25, 2023
Elsewhere during his appearance, Doherty recalled thinking he had been kidnapped by two Russian artists.
The Libertines frontman revealed that the two artists locked him inside a flat in Moscow. "When they were in London I put them up so they were supposed to put me up," he told the audience. They locked me in their flat and that was part of their installation but they didn't tell me. It was terrifying.
"It was in this big brutalist style flat and there were no windows," he added. "I couldn't get out. They filmed it all and transmitted it to the gallery. That was their installation, me freaking out in the flat. It got really good reviews though."
In April, Doherty will head out on his first solo acoustic tour of the UK and Ireland in a decade, labelled 'The Battered Songbook Tour'.
The tour is set to begin in April and will feature career-spanning setlists incorporating songs from The Libertines, Babyshambles and Doherty's solo projects.
Of what to expect from the shows, a statement read: "Peter promises to take audiences on an unforgettable ride into his strange and fascinating world where nothing is as it seems and life itself is an intense euphoric dream. Friends and special guests are expected to join him on occasion across these seventeen dates."
'The Battered Songbook Tour' begins in Belfast on April 13, ending on May 5 with a huge London gig at the Royal Albert Hall.
See the full list of dates below. Tickets are on sale now here.
APRIL 2023
13 – Belfast, Limelight
14 – Dublin, Opium Rooms
15 – Cork, Cyprus Avenue
18 – Glasgow, SWG3
19 – Stockton, KU Bar
21 –Newcastle, Riverside
22 – Lancaster, Kanteena
23 – Hull, The Welly Club
24 – Norwich, The Waterfront
26 – Manchester, O2 Ritz
27 – Liverpool, The Church
29 – Bristol, O2 Academy
30 – Falmouth, Princess Pavilion
MAY 2023
2 – Oxford, O2 Academy
3 – Sheffield, O2 Academy
4 – Birmingham, O2 Institute
5 – London, Royal Albert Hall
The post Watch Pete Doherty perform The Pogues' 'Dirty Old Town' in Ukrainian on TV appeared first on NME.