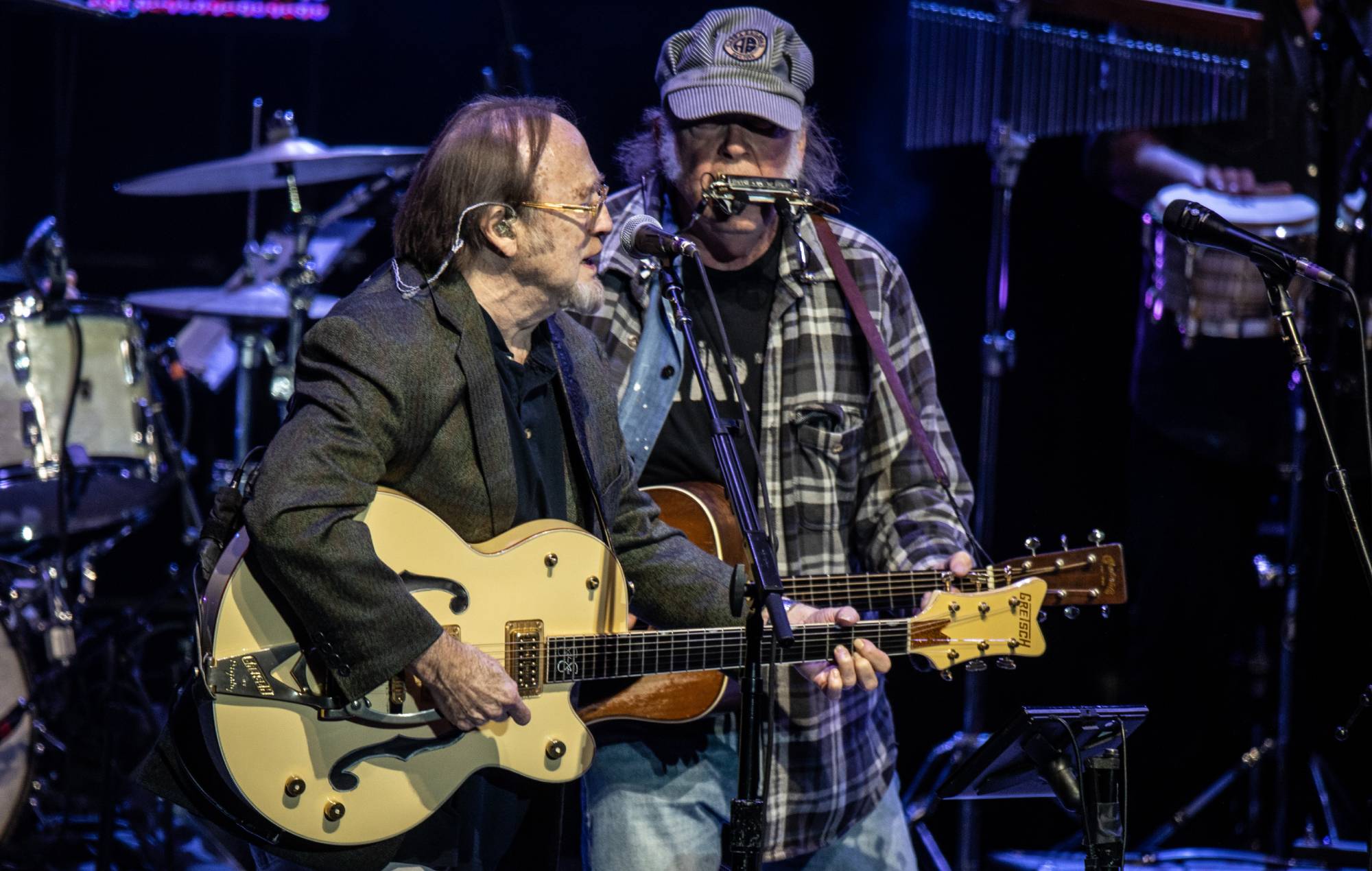 Neil Young reunited with Stephen Stills at a show in Los Angeles on Saturday – watch them perform together below.
Young came on to perform with Stills at the latter's 'Light Up The Blues' event that he puts on every year in aid of Autism Speaks. Young performed solo renditions of 'From Hank To Hendrix' and 'Comes A Time' before he was joined by house band Promise Of The Real for 'Heart Of Gold'.
Stills then joined in for the Crosby, Stills, Nash and Young number 'Helpless' and remained for a series of Buffalo Springfield songs, including 'For What It's Worth', 'Bluebird' and 'Mr. Soul' with help from Joe Walsh. They then finished with 'Long May You Run' from the pair's joint 1976 album of the same name.
Check out videos of some of their performances below.
[embed]https://youtube.com/watch?v=0mMr1YDfwto&feature=oembed[/embed]
[embed]https://youtube.com/watch?v=M8iCvVlwRv0&feature=oembed[/embed]
[embed]https://youtube.com/watch?v=Kot_uO0TZ6Q&feature=oembed[/embed]
[embed]https://youtube.com/watch?v=wYy-lflZC7c&feature=oembed[/embed]
"Oh man, we got AI out there in the audience playing my lyrics to me before I write them," Young said about halfway through his set as he saw a prompter displaying the words to his songs at the Greek Theatre [via LA Times]. "Out of my face, will ya? Stop thinking at me."
Earlier in the night, Stills paid tribute to David Crosby, who died in January aged 81, with a performance of CSNY's 'Wooden Ships' that featured his son Chris and Crosby's son James Raymond.
The event fell short of bringing together all of CSNY's members, as Graham Nash couldn't make it due to a scheduling conflict. He did, however, appear in a pre-taped video to introduce a 2013 performance of 'Guinnevere' by Crosby, Nash, and trumpeter Wynton Marsalis.
"Enjoy the music, and please rejoice," he said (per Rolling Stone). "I'm going to miss him every day of my life."
Young's first performance in four years came in February, where he performed 'Heart Of Gold' and 'Comes A Time' at a march and rally in support of the United For Old Growth campaign, which is looking to stop the Canadian government from allowing logging companies from destroying old-growth forests.
The post Watch Neil Young and Stephen Stills reunite for first time in four years and pay tribute to David Crosby appeared first on NME.