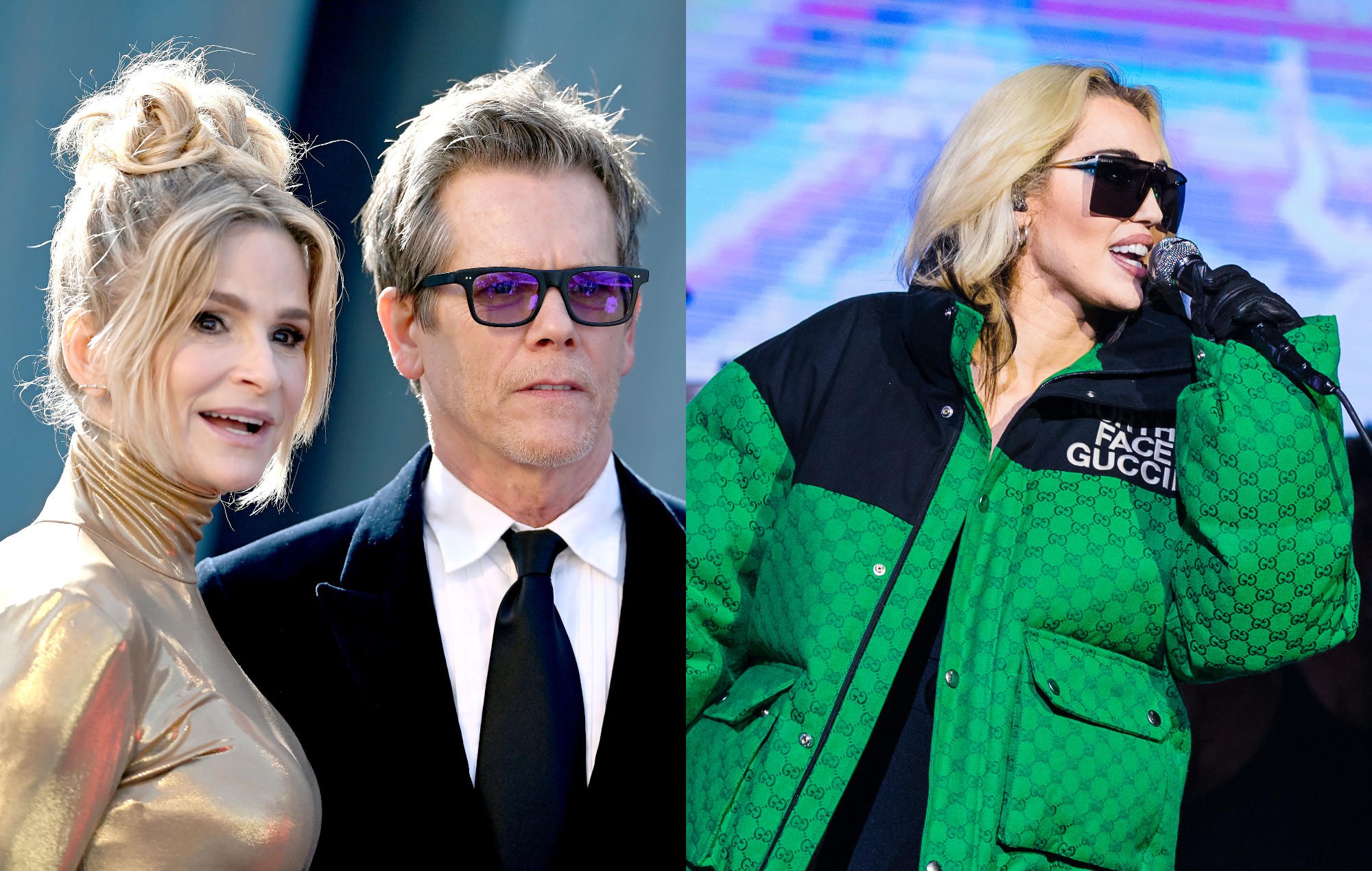 Kevin Bacon and Kyra Sedgwick have shared a new cover of Miley Cyrus' latest single 'Flowers'. 
The cover forms part of Bacon's ongoing #GOATsongs series, in which he covers famous tracks while surrounded by his pet goats. For this rendition, however, real goats are replaced by a small animal figurine. "We're not with the goats, but we thought we'd try a GOAT song anyway," Sedgwick said in the video.
The married couple trade lines of Cyrus' track, with Bacon playing guitar and Sedgwick cueing the audio shrieks of the toy goat. Bacon and Sedgwick perform the first verse and chorus of the original song before the actor jokingly thanks the toy goat while signing off. "Good job, Mr," he says. Watch that below.
I usually try to buy @kyrasedgwick the flowers, but looks like she's got that covered. Thanks @MileyCyrus And thanks @AngieAlaska for the screaming goat. #GoatSongs pic.twitter.com/p4R8tSVWMO

— Kevin Bacon (@kevinbacon) February 8, 2023
'Flowers' marks the latest in a long string of songs covered by the Footloose star in recent years. In 2020, Bacon shared a cover of the Radiohead track 'Creep', and followed it up last August with a rendition of Beyoncé's 'Renaissance' track 'Heated'. Elsewhere, the actor has covered Harry Styles' 'Late Night Talking', the viral TikTok song 'It's Corn', and a Jimmy Fallon-assisted take on Tears For Fears' 'Head Over Heels'
Meanwhile, 'Flowers' itself was covered by Inhaler last month as part of the band's debut performance at Live Lounge. The song will form part of the tracklist for 'Endless Summer Vacation', Cyrus' eighth studio album, which is due for release on March 10. It's not yet known whether a collaboration with SZA – who shared her excitement to "work" with Cyrus last month – will appear on the record.
Bacon and his brother Michael comprise the folk duo project The Bacon Brothers, which they began in 1994. The pair's most recent album, 'The Way We Love', arrived in 2020.
The post Watch Kevin Bacon and Kyra Sedgwick cover Miley Cyrus' 'Flowers' appeared first on NME.