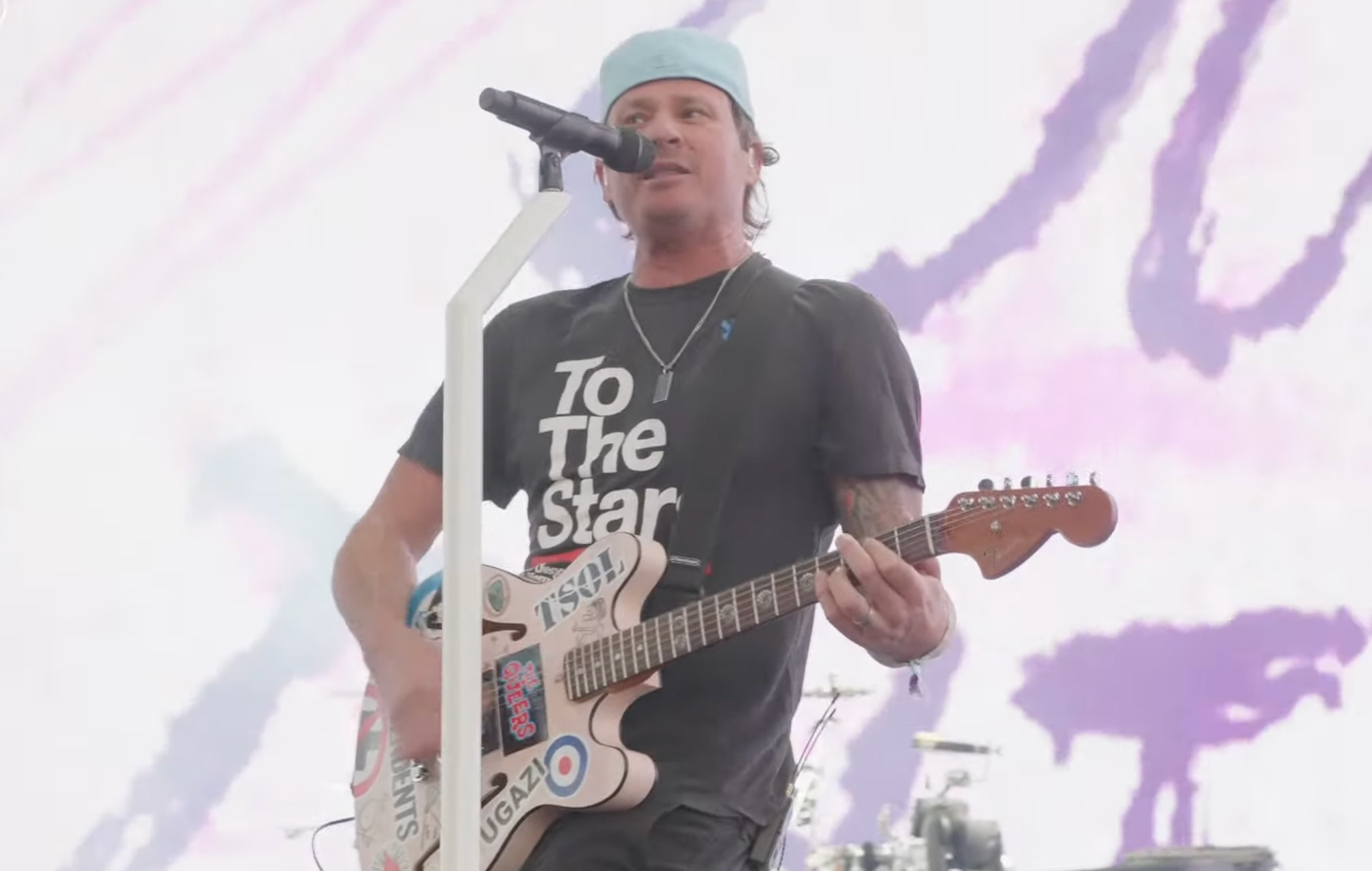 Blink-182 have performed live for the first time since they reunited with Tom DeLonge, delivering 50 minutes of seminal pop-punk hits at Coachella 2023.
The band's appearance at the festival came as a last-minute addition, announced by DeLonge just yesterday (April 13). They were initially scheduled to debut their reunited line-up last month, however the first leg of their comeback tour – covering South America and Mexico – was postponed after Travis Barker suffered repeated injuries to a finger.
Blink-182's Coachella set began with 1999's iconic 'Family Reunion', and the songs came thick and fast from there: other classics like 'Anthem Pt. 2', 'Feeling This', 'What's My Age Again?' and 'The Rock Show' filled the first half, with gems like 'I Miss You' and 'All The Small Things' popping up in the second. 
Amid the hits came the live debut of Blink-182's recent single 'Edging' – which is slated to appear on their upcoming ninth album – as well as the first performance of 'Aliens Exist' to feature Tom since 2001. During their performance of set-closer 'Dammit', Mark Hoppus interpolated the chorus of 'No Scrubs' by TLC into the bridge.
Have a look at some footage from the set below:
EL REGRESO DE TOM DELONGE A BLINK-182.

La banda volvió a reunir a su formación más popular tras casi 9 años y abrió su show de último momento en Coachella con "Family Reunion" y "Anthem, Part 2". pic.twitter.com/RUoxWaDOAB

— Pogopedia (@Pogopedia) April 15, 2023
Welcome back, @Blink182 pic.twitter.com/8WxUIzYfjU

— CONSEQUENCE (@consequence) April 15, 2023
Blink-182 entregando talento e energia em "What's My Age Again"

#Coachella2023 pic.twitter.com/8FsiNvQY0l

— VOU DE GRADE (@voudegrade) April 15, 2023
blink-182 tocando por 1ra vez su nueva canción "Edging" pic.twitter.com/BAjEtwB3Z9

— blink-182 Paraguay (@blink182py) April 15, 2023
aliens exist – blink-182 – sahara – coachella pic.twitter.com/NfYb1gh8Ls

— @voudegrade (@midiavdg) April 15, 2023
'Dammit" – Blink-182
Live At Coachella 2023 pic.twitter.com/ksPcQZuSol

— Just Rock Content (@JustRockContent) April 15, 2023
Blink-182's full setlist from weekend one of Coachella is:
1. 'Family Reunion'
2. 'Anthem Pt. 2'
3. 'The Rock Show'
4. 'Man Overboard'
5. 'Feeling This'
6. 'Reckless Abandon'
7. 'Dysentery Gary'
8. 'What's My Age Again?'
9. 'Edging'
10. 'Dumpweed'
11. 'Aliens Exist'
12. 'First Date'
13. 'Don't Leave Me'
14. 'Down'
15. 'Happy Holidays, You Bastard'
16. 'I Miss You'
17. 'All The Small Things'
18. 'Dammit' (with interpolation of 'No Scrubs' by TLC)
Blink-182's ninth album is yet to be announced in any formal capacity, though DeLonge has been teasing it fervently of late. He's described it as "the best album of [the band's] career" and their "most progressive", and in January said he was "personally tripping" over the material. In addition to 'Edging', the as-yet-untitled record has been teased to feature a follow-up to 'Anthem Pt. 2'. 
Still to perform at Coachella today are Kaytranada, Gorillaz, The Chemical Brothers, Ashnikko and Bad Bunny – among many others – with tomorrow's (April 15) bill featuring the likes of Blackpink, Boygenius, Charli XCX, The Linda Lindas and The Kid LAROI. You can see the full line-up here, with info on how stream every set live here.
Coachella's first weekend will wrap up on Sunday (April 16), with the second running over April 21-23. During their set earlier today, MUNA premiered a new song called 'One That Got Away' and welcomed Phoebe Bridgers out to join them for 'Silk Chiffon'. 
Check back at NME all weekend for more reviews, news, interviews, photos and more from Coachella 2023.
The post Watch Blink-182's first performance since reuniting with Tom DeLonge at Coachella 2023 appeared first on NME.