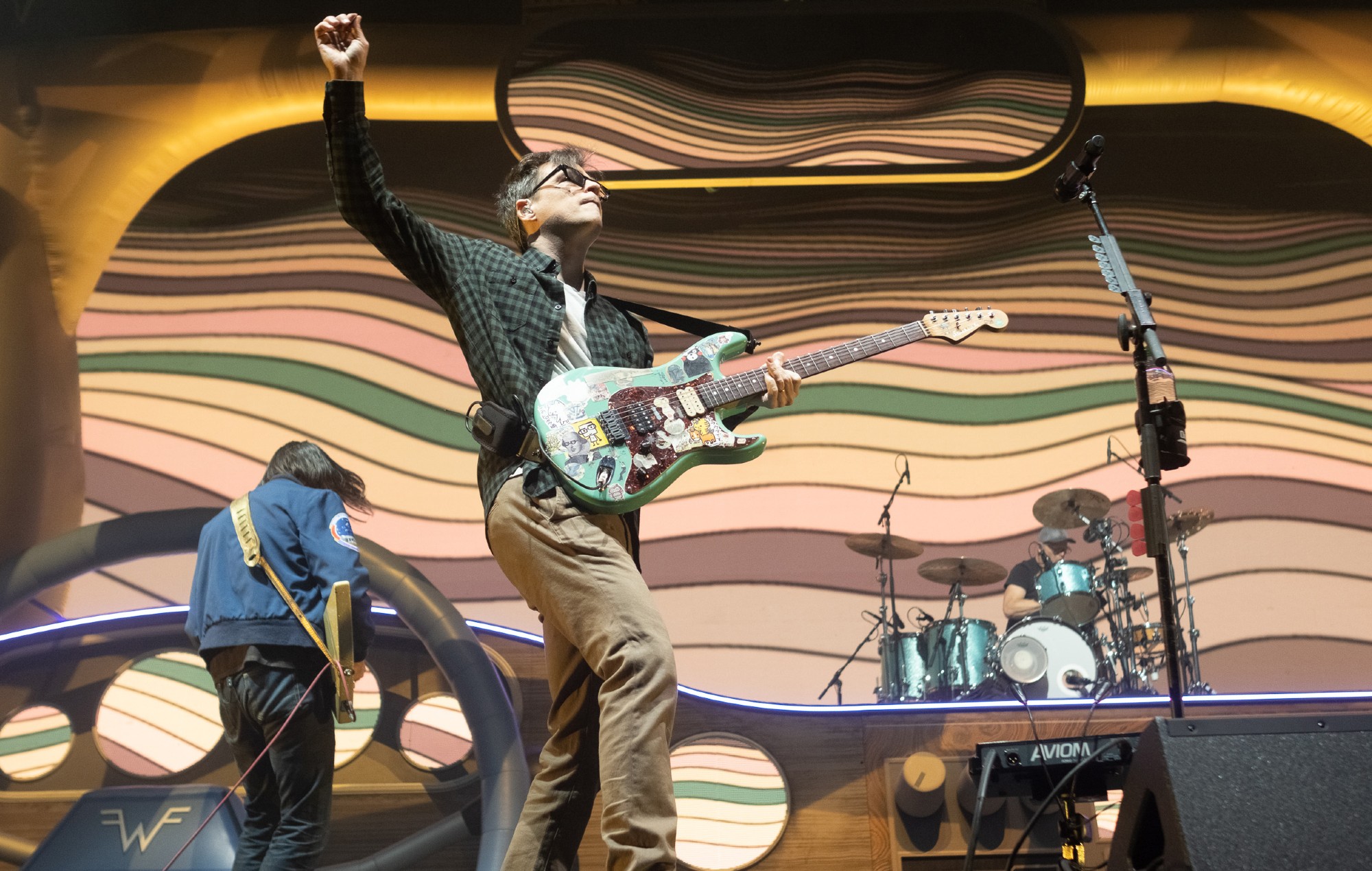 Weezer have finally made good on their promise to bring viral TikTok user Evan Marsalli onstage to perform 'Buddy Holly' with them.
While performing in Madison, Wisconsin on June 14, Weezer closed out their set with the hit track 'Buddy Holly' featuring Diet Lite's Evan Marsalli on guitar. The guest spot comes after a lengthy social media campaign that Marsalli ran on TikTok in an attempt to gain the band's attention.
Beginning in 2020, Marsalli posted a video of him playing 'Buddy Holly' onto TikTok every day for 990 days straight before Weezer's Rivers Cuomo finally duetted with him. "Challenge you to come play this live on Weezer's Indie Rock Road Trip Tour this summer. My people will reach out to your people," Cuomo wrote.
Evidently accepting the offer, Marsalli finally joined the band to perform the hit track together, with Marsalli's band Diet Lite posting a snippet of the moment onto Twitter. Weezer have since shared the clip, writing: "After 990 videos and 1 duet @dietlitemusic finally took to the stage to play Buddy Holly last night in Madison, WI!"
Watch the clip below.
After 990 videos and 1 duet @dietlitemusic finally took to the stage to play Buddy Holly last night in Madison, WI! https://t.co/0wt6xJu5in

— weezer (@Weezer) June 15, 2023
Weezer are in the midst of their Indie Rock Road Trip Tour, featuring a revolving set of opening acts, including Modest Mouse, Future Islands, Spoon, Momma, Joyce Manor, and White Reaper. The tour – which kicked off earlier this month – is set to run through September.
Weezer's remaining Indie Rock Road Trip tour dates are: 
June 16 — Blossom Music Center – Cuyahogaa Falls, Ohio
June 18 — Pine Knob Music Theatre – Clarkson, Michigan
June 23 — Merriweather Post Pavilion – Columbia, Maryland
June 24 — PNC Music Pavilion – Charlotte, North Carolina
June 27 — TD Pavilion at the Mann – Philadelphia, Pennsylvania
June 28 — Hartford Healthcare Amphitheater – Bridgeport, Connecticut
June 30 — Maine Savings Amphitheater – Bangor, Maine
July 1 — The Palladium Outdoors – Worcester, Massachusetts
July 3 — CMAC – Canandagua, New York
July 4 — Budweiser Stage – Toronto, Ontario, Canada
July 9 — Hard Rock Casino Northern Indiana – Gary, Indiana
July 11 — Stage AE – Pittsburgh, Pennsylvania
July 13 — Forest Hills Stadium – Queens, New York
August 20 — White River Amphitheatre – Auburn, Washington
August 22 — Hayden Homes Amphitheater – Bend, Oregon
August 24 — Greek Theatre – Berkeley, California
August 27 — The Great Saltair – Magna, Utah
August 28 — Fiddler's Green Amphitheatre – Denver, Colorado
August 30 — Arizona Federal Theatre – Phoenix, Arizona
September 1 — Zappos Theater at Planet Hollywood – Las Vegas, Nevada
September 2 — Fivepoint Amphitheatre – Irvine, California
September 3 — Gallagher Square at Petco Park – San Diego, California
Last month, Weezer performed a surprise acoustic set for striking writers in Hollywood amidst the ongoing Writers Guild of America strike. The short set saw the band perform 'Buddy Holly', 'Beverly Hills' and 'Island In The Sun'.
The post Viral TikToker finally performs 'Buddy Holly' with Weezer appeared first on NME.