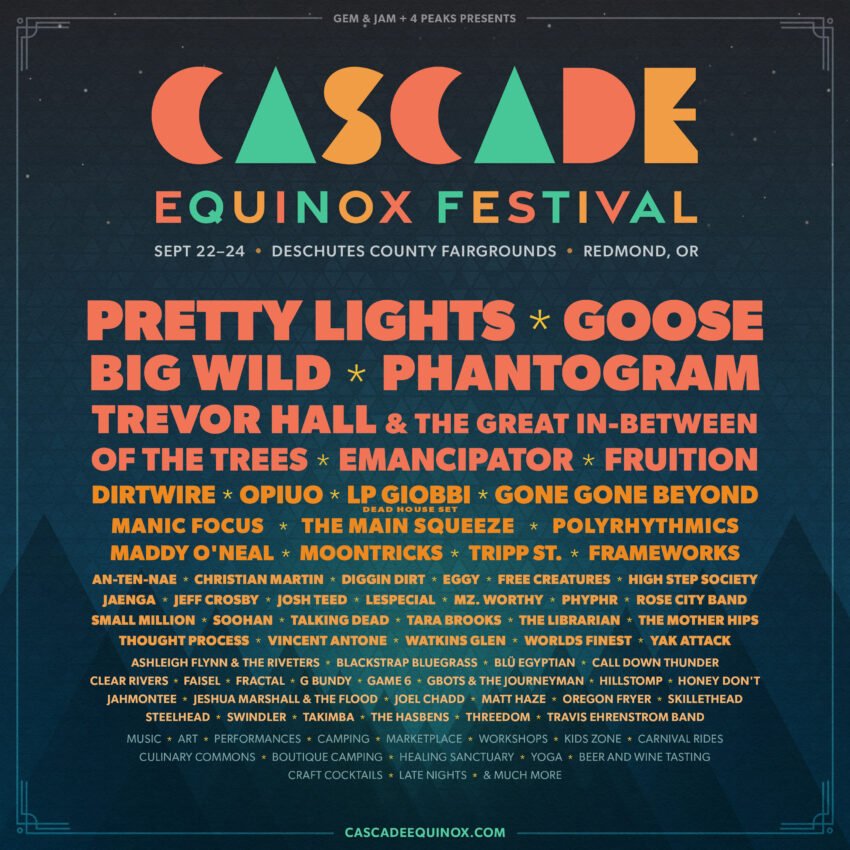 Seasoned event organizers Gem & Jam and 4 Peaks Presents have joined forces to produce the first-ever Cascade Equinox Festival, a new cross-genre camping festival set to take place at Deschutes County Fairgrounds in Redmond, OR from Friday, September 22 – Sunday, September 24, 2023.
Cascade Equinox has unveiled the stacked lineup for its inaugural edition, which boasts more than 50 acts that span the genre spectrum. This eclectic, dynamic lineup reflects the people and scenery that embody the festival's Central Oregon location, amalgamating a diverse medley of jam, electronic, funk, soul and bluegrass acts.
Last week, the festival began dripping out headliners, starting with electro-soul pioneer Pretty Lights. Following a five-year hiatus, the producer will headline Cascade Equinox Festival as his only Pacific Northwest performance on his Soundship Spacesystem Tour. With nearly two decades of experience flexing his signature, sample-heavy sounds that redefined America's electronic music scene, Pretty Lights is ready to showcase his vibrant, bass-fueled set to his fans at Cascade Equinox.
Other electronic music heavyweights headlining Cascade Equinox include producer polymath Big Wild, guitar-driven, psychedelic electronic pop duo Phantogram, genre-blending bass act Of The Trees, and boundary-pushing producer/guitarist Emancipator.
[embed]https://youtube.com/watch?v=itfw516FI-k[/embed]
Headliners on the jam and bluegrass side of the lineup include critically-acclaimed indie-jam five piece Goose, roots-inflected folk and Eastern Mysticism-inspired singer-songwriter Trevor Hall & The Great In Between, and Portland, OR-based folk-rock band Fruition.
The festival will also present a bevy of other in-demand, electronic music acts, including electro blues-grass duo Dirtwire, bass-experimentalist Opiuo, house maestro LP Giobbi (performing a Dead House set), genre-bending producer Manic Focus, electro-folk duo Moontricks, soul-infused bass artist Maddy O'Neal, psychedelic bass producer Tripp St., emotive producer/multi-instrumentalist Frameworks, psychedelic house/techno producer Christain Martin, violinist bass producer Josh Teed, Dirtybird-founding member and Anabatic Records label boss Mz. Worthy, electro-soul guitarist/producer Phyphr, underground producer Tara Brooks, and funky producer/multi-instrumentalist Vincent Antone.
With an equal dedication to band-focused sounds, Cascade Equinox will display an assortment of acclaimed acts including folk-americana and roots outfit Gone Gone Beyond, funk-five piece The Main Squeeze, progressive funk and psych rock-infused afro-beat band Polyrhythmics, four-piece jam and funk band Eggy, and future groove trio lespecial.
Cascade Equinox also promises to highlight regional acts by creating a full local stage dedicated to showcasing artists from the Pacific Northwest.
Cascade Equinox Festival will also offer a bevy of activities and programming, including a vendor marketplace, workshops, kids zones, carnival rides, culinary commons, a healing sanctuary, yoga, beer and wine tastings, interactive art installations and live art. More details coming soon.
Deschutes County Fairgrounds is the Pacific Northwest's premier event facility and venue. With sweeping panoramic views of snow capped mountain peaks, trees, and creek running through its 340 acre space, Cascade Equinox promises a vast, naturalistic music festival unlike any other.
The festival will offer many various camping options, including glamping in the Alpenglow Campground. The centrally-located, boutique campground is just a stone's throw away from the festival's epicenter, making it the perfect basecamp for festival-goers who want to immerse themselves in the excitement while also enjoying the comfort and convenience of premium accommodations. The Alpenglow Campground will offer amenities such as a shaded community lounge space with a fire pit, daily hosted happy hour, daily yoga and meditation sessions, private bathrooms, phone charging stations in the lounge, private bar, and private parking for Alpenglow guests.
Cascade Equinox Festival will also offer Expo Center RV Park for RV hookups, as well areas for dry RVs, car camping, walk-in camping, and basic camping packages. All onsite accommodation packages, as well as off-site hotel packages, are available here.
The post The Inaugural Cascade Equinox Brings Pretty Light, Big Wild, Goose, LP Giobbi and More appeared first on EDM | Electronic Music | EDM Music | EDM Festivals | EDM Events.