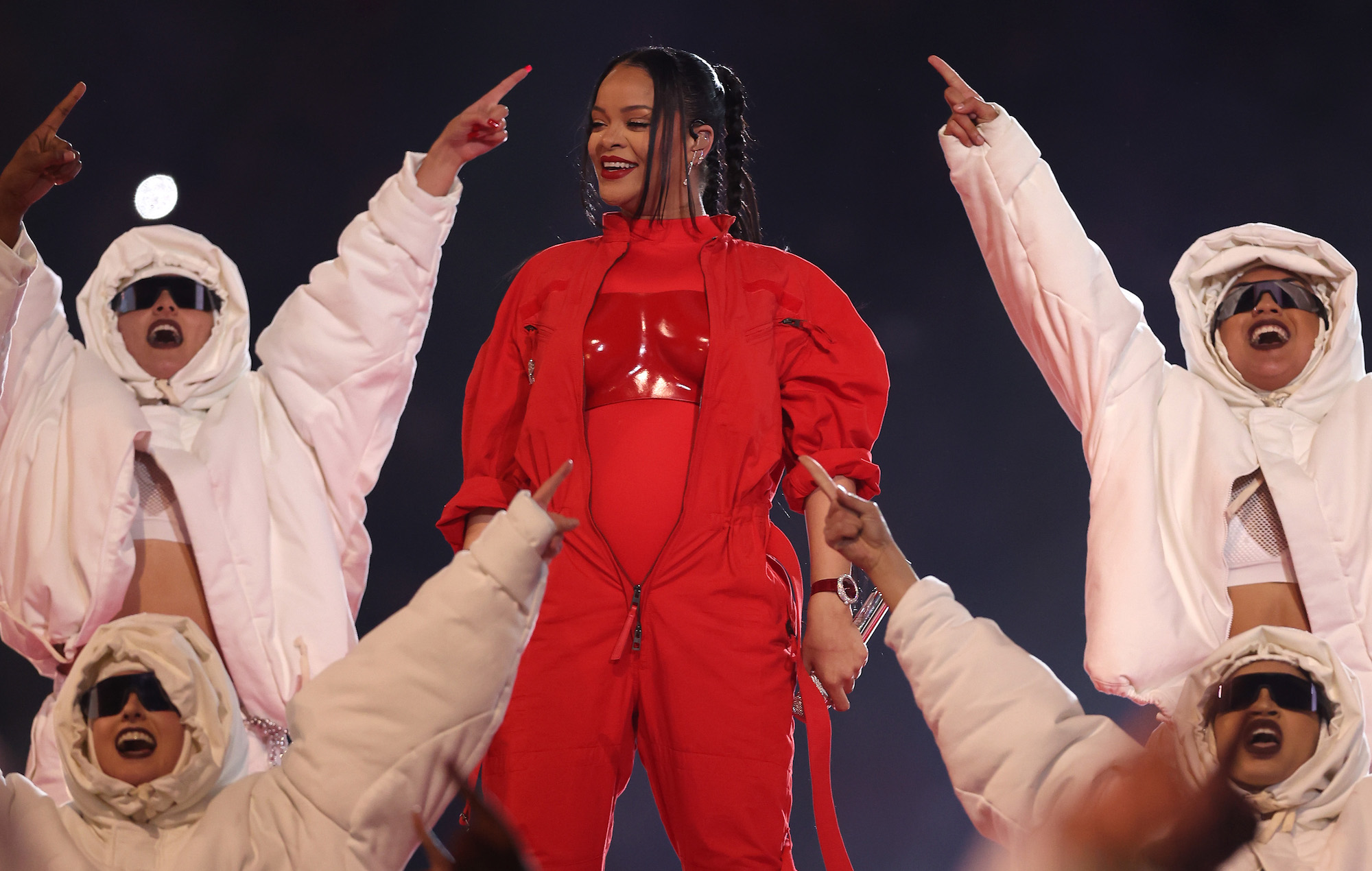 Tonight (February 12), Rihanna joined some of music's biggest names in becoming a Super Bowl Halftime Show headliner. Performing in Glendale, Arizona in the break of the game between the Philadelphia Eagles and the Kansas City Chiefs, the star proved exactly why fans have been so keen for her return to music with a flawless performance that pulled from across her iconic back catalogue. Here are the biggest moments of the night.
Kicking it all off with 'Bitch Better Have My Money'
Happy Rihanna Day y'all pic.twitter.com/Efzq1LvLhO

— Berry (@K3RUBO_) February 13, 2023
Could there be a more Rihanna way to kick off one of the biggest performances of her career than with one of her most attitude-filled songs? Disregard the fact that Halftime Show performers don't usually get paid for the privilege of playing, 'Bitch Better Have My Money' was a brilliant choice for a set-opener that showed Riri meant business – made doubly clear through the piercing look she sent down the camera as the whole thing began.
Every nod to her heaving back catalogue 
When you have a back catalogue as eclectic and incredible as Rihanna's, just how do you cut it all down to 13 minutes? Throughout the set, the star gave nods to songs she didn't have time to include properly in the setlist, working elements of 'Cockiness (I Love It)', 'S&M', 'Kiss It Better' and more into other songs.
That first big choreography for 'Rude Boy'  
#Rihanna performing Rude Boy at the #SuperBowl pic.twitter.com/gaDTxIzY4q

— RNB RADAR (@RNB_RADAR) February 13, 2023
Much of the first few songs were spent with Rihanna hovering up and down in the air above the stage on her flying platform, but by the time a remix of 'Rude Boy' entered the fray, she had her feet firmly on the ground. That signalled time for the first big choreography of the night – a reminder of Rih's star power as she appeared behind the flanks of white-clad dancers to nail the flirty moves.
The 'All Of The Lights'/'Run This Town' moment 
Some Super Bowl Halftime Shows past have seen the headliners joined by special guests on the stage, but that wasn't to be for Rihanna. That didn't stop her from playing some of her biggest collaborations, with her dropping Kanye West's 'All Of The Lights' and Jay-Z's 'Run This Town' towards the end of her set.
Touching up her Fenty mid-performance 
rihanna pullin out the fenty to do a lil make up touch up was *chefs kiss pic.twitter.com/86EqkT6pFQ

— val (@puflyx) February 13, 2023
As 'All Of The Lights' began, Rihanna took a moment to remind us all about the other endeavour that's been keeping her busy in her time away from music – Fenty. The star took a compact from one of her dancers, touched up her still-flawless make-up and then got back on with the show. An iconic marketing move that really backed up all those National Fenty League jokes.
When she dropped 'Pour It Up' 
Rihanna performing "Pour It Up" during her Super Bowl Halftime Show! #FentyBowl pic.twitter.com/SOw4SKwEcV

— REALITY SPEEDD (@realityspeedd) February 13, 2023
As far as Rihanna's singles go, 'Pour It Up' – taken from 2012's 'Unapologetic' – isn't one of the first that comes to mind when you're recalling her many, many hits. Still, that didn't stop the singer from including the track in her Super Bowl setlist – a typical Rihanna move of not doing what people expect her to do. As ever, though, it proved to be a brilliant decision – the song fit in perfectly between the sultry 'Wild Thoughts' and the anthemics of 'All Of The Lights', showcasing another side to the pop icon.
A sky-high, sparkling crescendo
arrepiado demais com a rihanna cantando diamonds no super bowl pic.twitter.com/3cOtx1c0V8

— matheus (@whomath) February 13, 2023
Riri rounded out her performance the way she'd started it – back up in the rafters of the State Farm Stadium, this time with a big red puffer coat covering her all-red 'fit. Clutching at a mic stand, she gave a perfect rendition of the fittingly skyscraping 'Diamonds', the stands behind and beneath her illuminated with fans' phone torches. It was a glorious, grand end to a brilliant Super Bowl Halftime Show that showed just what we've been missing while Rihanna focuses on other things.
Baby number two is on the way
We might have to remain missing her live performances, though, as the star announced her second pregnancy during Super Bowl. As she began with 'Bitch Better Have My Money', Rihanna appeared to rub her stomach, causing many fans online to begin speculating she could be carrying her second child (representatives for the star have now confirmed the news). If this is the only performance we get from her for another nine months or so, we'll take it.
The post The biggest moments from Rihanna's Super Bowl Halftime Show appeared first on NME.