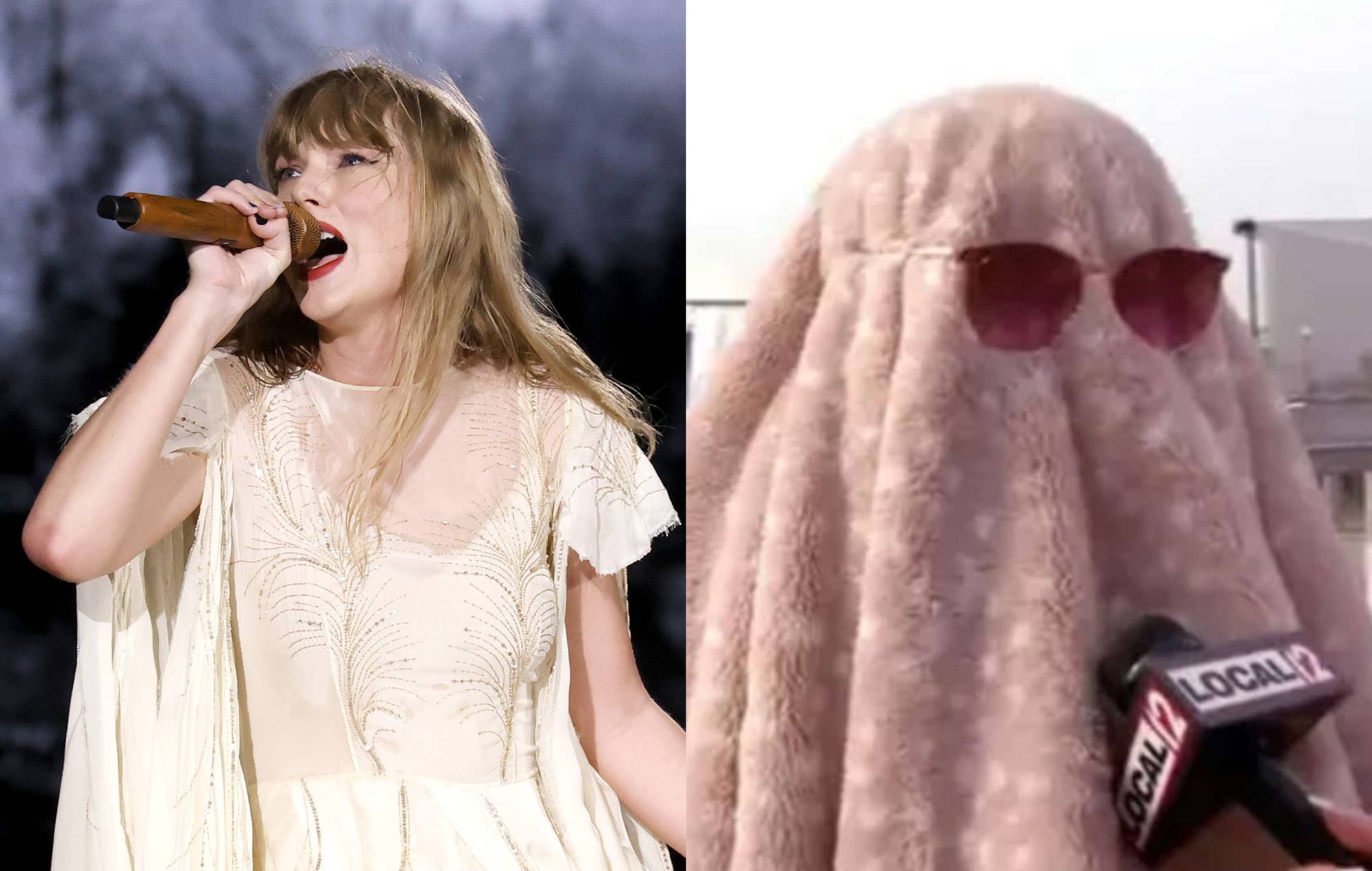 A Taylor Swift fan has gone viral for going to a show on the singer's 'Eras' tour in an elaborate disguise.
The fan was caught on camera by WKRC-TV while queuing for merch on Thursday (June 29) in Cincinnati, Ohio, and explained she'd concealed her identity because she'd called in sick to work in order to attend the gig, despite leaving two days before the actual gig. She was wearing a blanket over her head with sunglasses over the top in a reference to the characters who torment Swift in the video for her recent hit 'Anti-Hero'.
The woman had travelled from Louisville to the show with a friend, also disguised in a blanket, and had previously seen the 'Eras' show in Nashville. She had been queuing since 2:45am.
"Your secret's safe with me," said the reporter. "And I think it's safe with everyone else here too."
Check out the viral clip below:
Thousands are camped out in downtown Cincinnati ahead of the Taylor Swift merchandise truck opening for business… and that includes a couple of anonymous fans from Louisville skipping work. #swiftinnati #taylorswift pic.twitter.com/X6hY6OjjKF

— Local 12/WKRC-TV (@Local12) June 29, 2023
Meanwhile, earlier this week, Swift added a fifth show at Wembley Stadium to the international leg of the 'Eras' tour, which is set to take place next year.
It follows previously announced dates in June (21–22) and August (16–17). Swift will also be making stops in the UK in Liverpool, Edinburgh and Cardiff.
Currently, the ongoing US leg of the 'Eras' tour is set to continue through North America until August 9 where it'll conclude with the final of six shows at Los Angeles' SoFi Stadium.
Registration was required for access to tickets, however, this has since closed. According to Ticketmaster, all those who registered "will receive an email on Wednesday 5 July with further information".
In addition, Swift has shared a preview of the Taylor's Version of 'Back To December' in the new trailer for season two of The Summer I Turned Pretty.
The Amazon Prime Video show will air the first episodes of its second season on July 14, two days after Swift releases her latest re-recorded album, 'Speak Now (Taylor's Version)'.
The post Taylor Swift fan goes viral for attending 'Eras' show in disguise appeared first on NME.