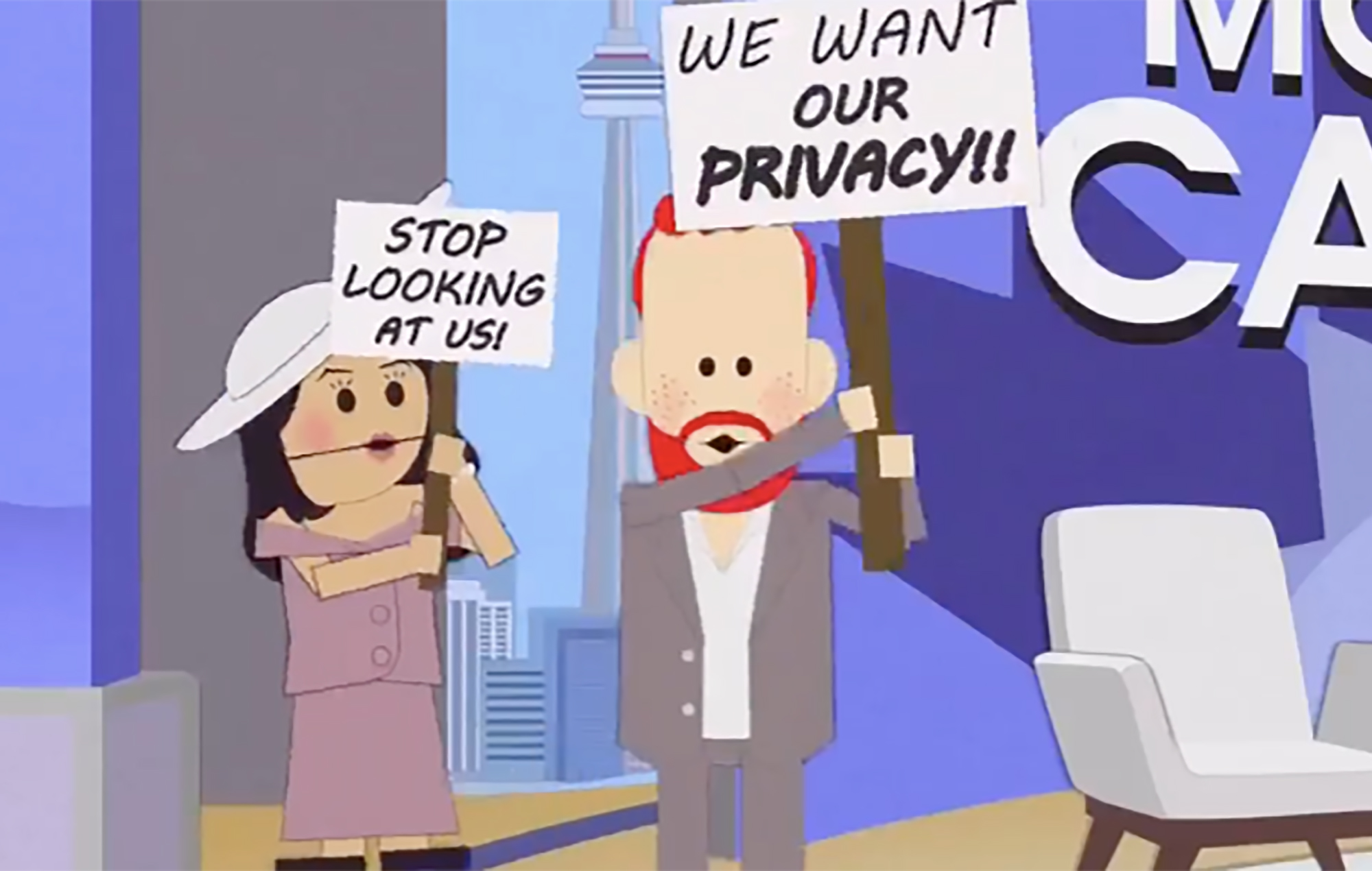 South Park seemingly criticised Prince Harry and Meghan Markle in their latest episode.
In 'The Worldwide Privacy Tour', the former royals were not named but appeared to make reference to the pair seeking privacy from the press.
The episode focuses on the Prince of Canada and his wife, who visit the town of South Park and hold signs saying "We want our privacy!" and "Stop looking at us!"
[embed]https://youtube.com/watch?v=ZT7vfazfi7U&feature=oembed[/embed]
In the South Park episode, the prince can be seen promoting his new book called Waaaaagh, which looks to mock Prince Harry's recently released book Spare.
The host of Good Morning Canada in the episode says to the Markle proxy character: "Some people might say that your Instagram-loving bitch wife actually doesn't want her privacy."
Elsewhere in the episode, Kyle Broflovski says: "I'm sick of hearing about them! I can't get away from them! They're everywhere, in my fucking face!"
South Park makes fun of Harry and Meghan. As usual, they get it spot on. pic.twitter.com/JURRIgHvsF

— Chris Rose (@ArchRose90) February 16, 2023
Another character, Eric Cartman, adds: "We don't care about some dumb prince and his stupid wife."
The prince is described as a "royal prince, millionaire, world traveler, victim," while his wife is called: "Sorority girl, actress, influencer, and victim."
Elsewhere, the creators of South Park confirmed last year that their deepfake film about Donald Trump is currently "on hold".
Parker and Stone had previously worked with Peter Serafinowicz on the viral web series Sassy Justice, which used deepfake technology to project the faces of celebrities and politicians onto fictional characters. Some of the notable figures included Trump, Mark Zuckerberg and Jared Kushner.
The post 'South Park' takes aim at Harry and Meghan "worldwide privacy tour" appeared first on NME.