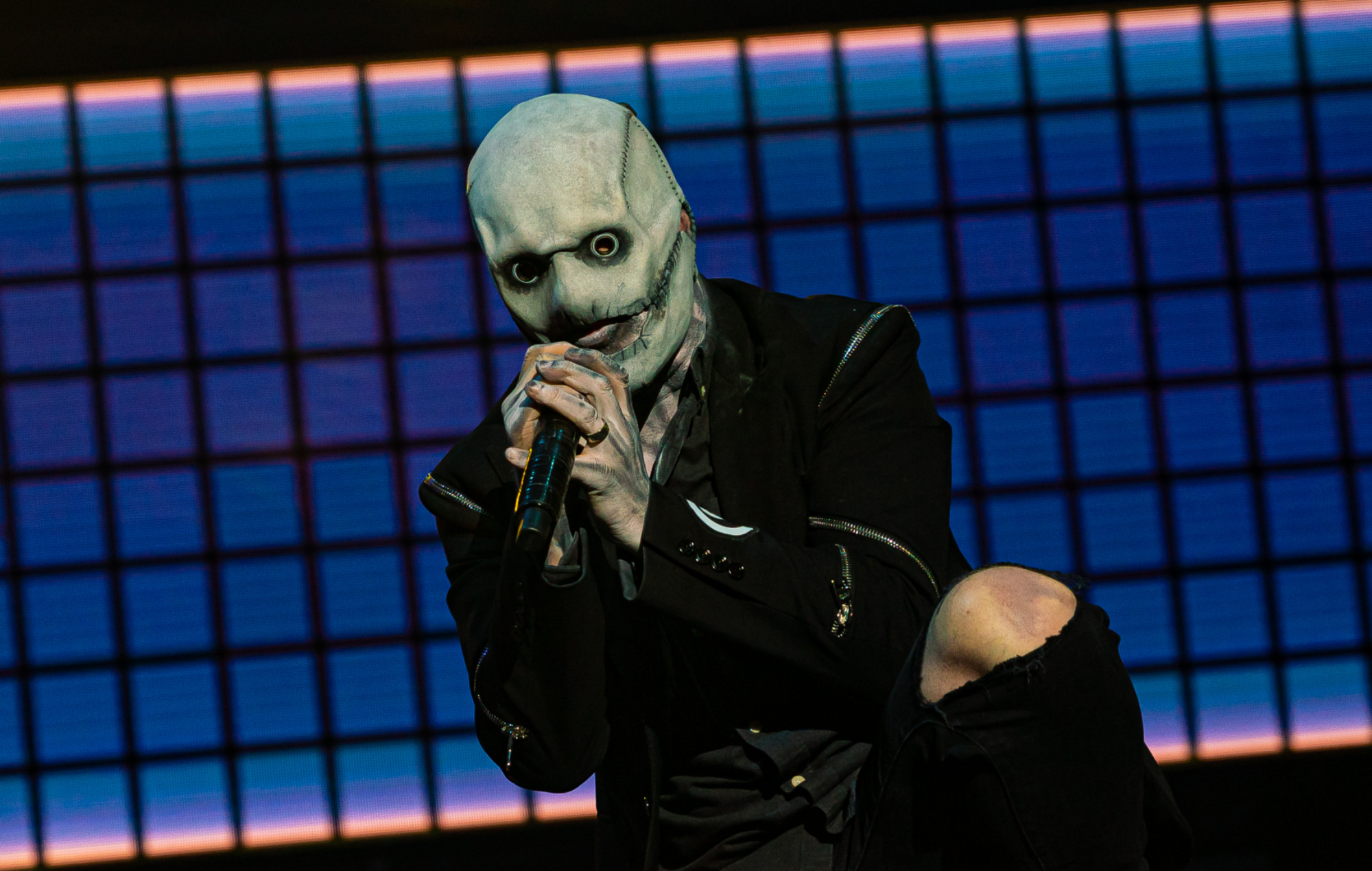 Slipknot fans have been sharing their theories on the identity of the newest member.
The new member was teased by the band last week, following the abrupt departure of longtime keyboard player and sampler Craig Jones.
Intrigue about the latest addition to the metal band was piqued last Thursday (June 8), when Slipknot posted a statement on social media saying that Jones had parted ways with the band. They said nothing more about the situation, other than they wish him the best of luck. Shortly afterward, the band deleted the post.
Then, the members made a new social media update the same day, sharing an image of an unknown hooded member in a new mask. The post did not come with an accompanying caption, and quickly sparked conversation among fans.
Now, fans are already speculating who the latest addition may be. Many of which are questioning whether the new member is actually still Jones, who is simply sporting a new look and never left the band after all.
"Imma live in my delusion and say that this slipknot "new member" is still Craig with a completely different mask and persona," one fan wrote on Twitter, while another agreed, adding: "Craig might not actually have left but instead re-branding?? … what the flying fuck is actually going on" [SIC].
imma live in my delusion and say that this slipknot "new member" is still craig with a completely different mask and persona

— hurricane • (@lyli_kenobi) June 8, 2023
i would really really love to know what the fuck is going on with slipknot atm
new member???
craig left???
craig might nor actually have left but instead re-branding??https://t.co/wuZECQ7OMB video??
what the flying fuck is actually going on https://t.co/6OsUxm2shg

— tee ? (@murderdolls_666) June 8, 2023
Others are more suspicious about the identity of the keyboardist, however, and a general consensus seems to be that the member could be one of two options: Zac Baird or Nathan Church.
The former is a popular keyboardist in the metal scene, who has previously worked alongside Korn and Evanescence, as well as auditioned to join Nine Inch Nails.
Church on the other hand, is most renowned for his work with the American nu-metal band Downthesun, and has been spotted hanging out with Slipknot's drummer Clown in the past.
As reported by Loudwire, some eagle-eyed fans on Reddit have been quick to shed doubt on the latter, as the keyboardist is apparently still accepting appointments in his Missouri tattoo shop, and therefore unlikely to be on tour with Slipknot.
Other rumoured names include Sleep Token frontman Vessel, who is currently joining the band on tour. These rumours were also heightened as Corey Taylor said that the band remind him of a young Slipknot during a recent interview. Find more fan theories below.
The new member of @slipknot (taking over for Craig) is believed to be Nathan Church from the band "DowntheSun". DowntheSun was the only act signed to Slipknot's short-lived record label, "Maggot Corps". #slipknot pic.twitter.com/JMwpfJ1Yod

— ???? ??????? (@PaulHere86) June 9, 2023
Nathan church is the new member of slipknot on god

— your (@weeweewoowoo38) June 14, 2023
The new #slipknot member is Zac Baird. Trust me.

— Aaron Dean (@WaffleDean) June 9, 2023
If Craig Jones' replacement is Craig Jones, I'm stoked.
If it's Zac Baird, I'm stoked.#slipknot pic.twitter.com/5Jw13eVuYR

— Simon Blackburn (@precisepath) June 12, 2023
well, Zac Baird posted he's on tour on instagram. So is slipknot, he's a keyboardist. And has blue eyes just like Zippermouth Guy…

See where i'm going with this? @slipknot #slipknot

— Aleks (@alekswilson_) June 8, 2023
ITS ZAC BAIRD FROM KORN AND GHOST.. HOW IS NO ONE CATCHING ONTO THIS

— Aaron Dean (@WaffleDean) June 9, 2023
The guy from sleep token apparently

— Dylan (@dylancoxtv) June 8, 2023
It's Vessel

— Unbecoming (@Fitter_5p) June 13, 2023
Jones's departure and replacement – if confirmed – would mark the fourth time a new member has been brought on in place of an original member. Most recently, the band brought on Michael Pfaff as percussionist Chris Fehn's replacement in 2019, only revealing his identity in March last year.
The addition to the line-up came around the time that the band released their comeback record 'We Are Not Your Kind' — which scored them their first Number One album in 18 years.
Before his identity was announced, the member was simply dubbed 'Tortilla Man' by fans owing to the style of his mask, and once again speculated who the musician may be. Guitarist Jim Root also teased the identity of the member in an interview, stating that the mystery man was "a world-class pianist" and "a great percussionist" who is "schooled in music".
His identity was later confirmed through a social media update, showing him holding up a note which read: "I AM MICHAEL PFAFF".
Before his identity was revealed, the percussionist and Clown took part in an NME interview, held ahead of their performance in London in 2020.
While 'Tortilla Man' didn't say anything in the interview other than the occasional enthusiastic thumbs up — as to not reveal his identity — Clown did speak about the Slipknot community, and hint towards the sense of anonymity around new members.
[embed]https://youtube.com/watch?v=OOJ-cQh6uCg&start=502&feature=oembed[/embed]
"You're not going to get him to talk. Slipknot is an ongoing mechanism that doesn't even know itself," he said. "That's what's so interesting about it. It blooms differently every year. None of us know what's going to happen, I don't really care. I just wake up and live the day so we're having a lot of fun."
Prior to that, Slipknot welcomed drummer Jay Weinberg and bassist Alessandro Venturella in 2014 to replace Joey Jordison, who died in 2021, and Paul Gray, who died in 2010.
Last week, the band performed their first show with the new keyboardist at this year's Download Festival. The masked metallers joined other headliners Bring Me the Horizon and Metallica for the instalment, and broke out some of their biggest hits including 'People = Shit', 'Duality' and 'Psychosocial'.
The post Slipknot fans share theories on identity of new member appeared first on NME.