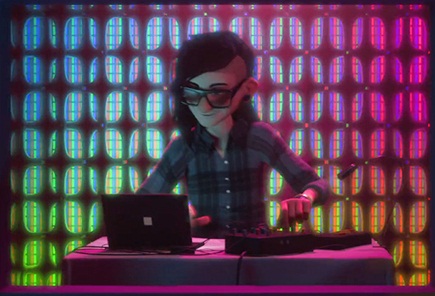 In our world dance music, the most magical place on Earth is without a doubt Tomorrowland… but some people may say it's Disney World. If the two worlds were to mix though, only one DJ is unique enough to make that transition. And no, it definitely isn't . I'm talking about the prince darkness, Skrillex. His iconic look and distinguished music makes him the perfect candidate for a role in a Disney movie.
In 2012, Skrillex made an appearance in a cameo in Disney's hit movie, Wreck-It Ralph. Although the cameo was short, the surprise appearance by one the most beloved DJs certainly got us pumped. In addition to the cameo, Skrillex also produced the track 'Bug Hunt' for the film. His original mix didn't make the cut, but Noisia's remix the track was featured in the film's soundtrack.
A few days ago, Disney tweeted that Skrillex will once again play a role in the upcoming Wreck-It Ralph sequel. Skrillex's specific role in the new film has yet to be announced but definitely be on the look out for him when the movie releases. For now though, you can check out Sonny's 2 seconds fame from his cameo in the first 'Wreck-It Ralph'.