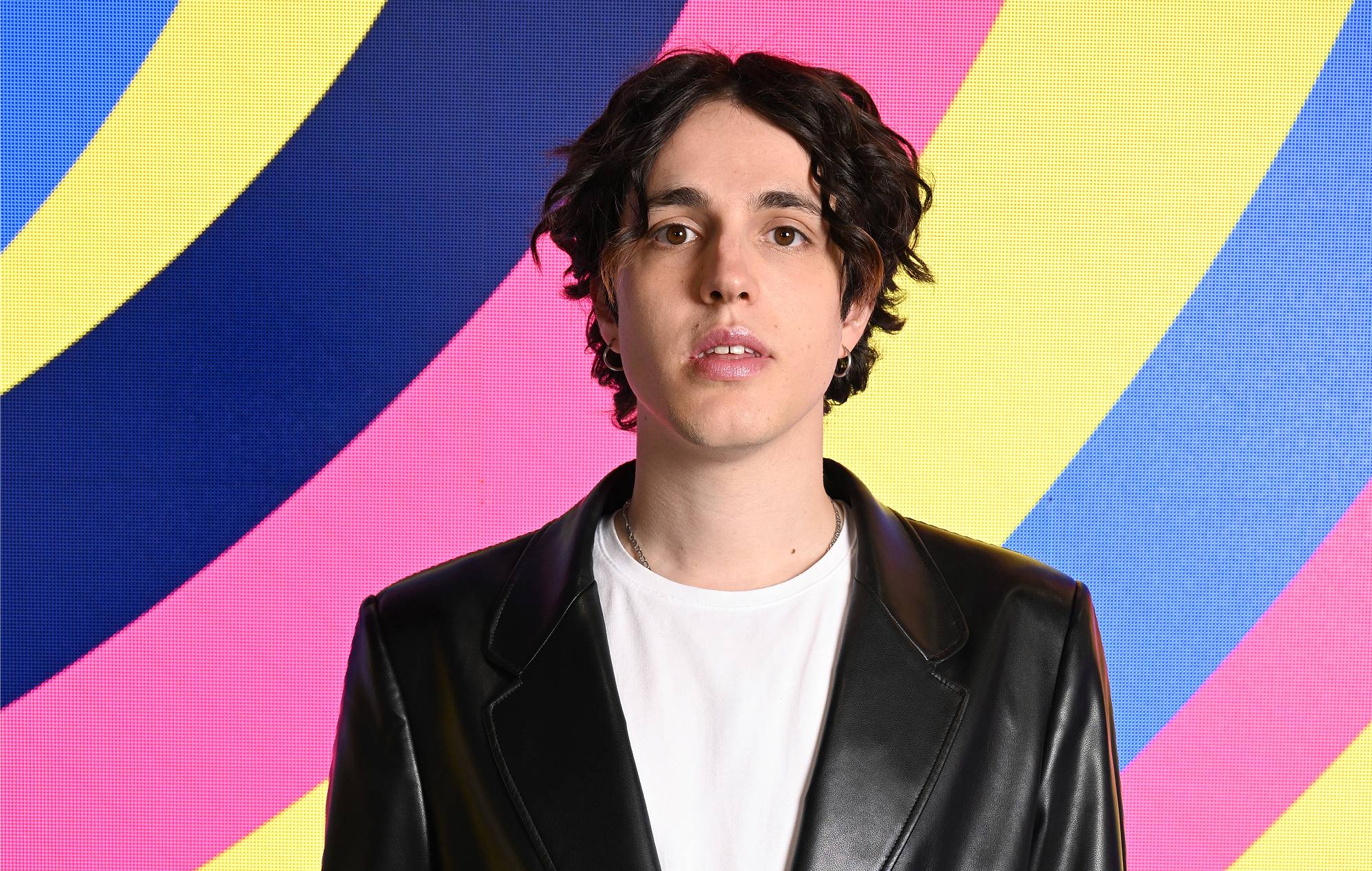 Serbia's Eurovision 2023 entry Luke Black has spoken to NME about what went into his "cyber-punk, hyper-pop" song 'Samo Mi Se Spava' – and how he hopes it "sends a wake-up call" to viewers and his home nation.
Black's dramatic entry made it through the semi-finals earlier this week to be competing in the grand final in Liverpool tonight (Saturday May 13). With the song's title translating to 'I'm Just Sleepy' and the chorus 'I just wanna sleep forever, I like it better when I dream', the Grimes and Bring Me The Horizon-esque 'Samo Mi Se Spava' was born of the artist feeling uneasy with the state of the world.
"I had an initial idea of a mantra before the pandemic saying, 'I just want to sleep for a long time'," Black told NME from backstage at Eurovision 2023. "There was a moment in 2019 where I was talking to my mom and I had a very intense conversation and said, 'Listen, there is so much pressure and so much negative energy' – you could feel something was coming up.
"I just really wanted to go back home because I'd been living in London for a couple of years. I just wanted to sleep and play video games. I just couldn't handle the world. Then that all only became more so when the pandemic hit."
Black then escaped from London to his native Serbia where they had looser COVID restrictions, when everything changed.
"They tricked us into going into a camp," he said. "It was like a quarantine zone where they said we couldn't go home but not go out, but they actually put us in a bunker."
[embed]https://youtube.com/watch?v=E89gtz9rdBM&feature=oembed[/embed]
His producer then sent him the melody to what would become the song while in quarantine, and the artist used a friend's phone to sing and record the demo.
"Once I broke out of the bunker, I went home and recorded it properly," he said. It was inspired by films – we wanted it to fit a Blade Runner type animation, then it morphed into a pop track. I'm really happy when people describe it as 'cyberpunk' because I was really inspired by hyper-pop.
"For me, it was a time to go crazy, let loose and create something. I wrote the lyrics in 25 minutes, and it was such a burst of inspiration."
The performance matches the surreal and high concept sci-fi ideas of the song's inspiration – drawing on the imagery of a zombified population hooked up to a robot like a scene from The Matrix. Another muse for the visuals came from game Dreamfall The Longest Journey, which is about "a corporation which had a flower-like machine to help you sleep and live in a surreal plane while they subtract your personal information".
"This is my own wake-up call as well, but the initial idea for the performance is that it should shake and wake people up," said Black. "I know that Eurovision is quite happy, flashy and emotional, but it always has a hopeful note. That's something I wanted to showcase with my performance but I wanted it to be a bit rewarding.
He added: "I really feel like we are ignoring loads of things that are happening behind the scenes. It's not that pretty. Even though the show itself is grand because it's in this big arena."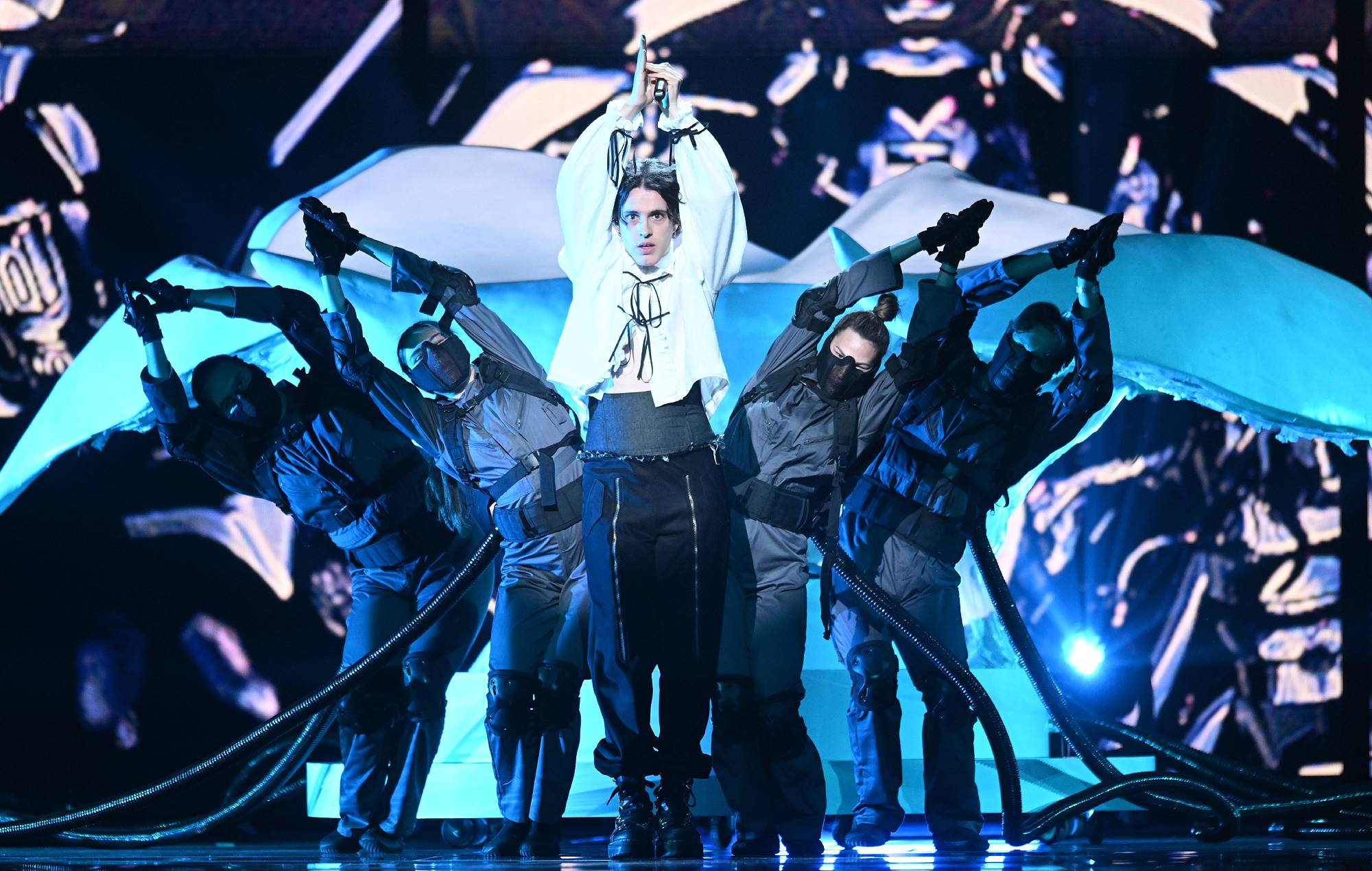 As for what it would mean to win Eurovision tonight, Black said that he hoped to send out both a message after the recent and tragic school shooting in Belgrade.
"There have been some difficult situations in Serbia," said Black. "There was a mass shooting committed by a child in an elementary school and a lot of children have died. There's a message in the song where I mention guns and violence for wanting to make me go to sleep forever. It happened really close to our homes and our hearts.
He added: "I guess people winning while talking about an important subject could be a wake up call for Serbia. We tend to have something negative happen and then forget about it and nothing is done. I'm happy about the gun laws having been made more strict, but it's still important to use a platform like this for good."
"Hello, game over – bitch" – #Euroviosion Serbia hopeful @LukeBlackMusic wants your vote. #LukeBlack pic.twitter.com/xwtgUCIg7Y

— NME (@NME) May 13, 2023
As for what's next, Black said that he was "taking it step by step" but had plenty more music on the way.
"I am totally ready to work hard and create more music," he added. "I have so much in vault that I was afraid to release over the years, but now I've been meeting more and more fans and I'm really feeling the encouragement."
Check back at NME for more Eurovision news, interviews and more.
The Eurovision Song Contest final takes place in Liverpool tonight, with the UK hosting in honour of last year's winners Ukraine.
Check out all of the competing songs here and see the bookies' favourites for who's likely to win here.
Sam Ryder, Netta and Kalush Orchestra are among the previous Eurovision stars confirmed to perform at the final, while Frankie Goes To Hollywood reunited for their first performance in 36 years at the Eurovision village last week.
The post Serbia's Luke Black on his "cyber-punk" Eurovision song: "It's a wake-up call" appeared first on NME.