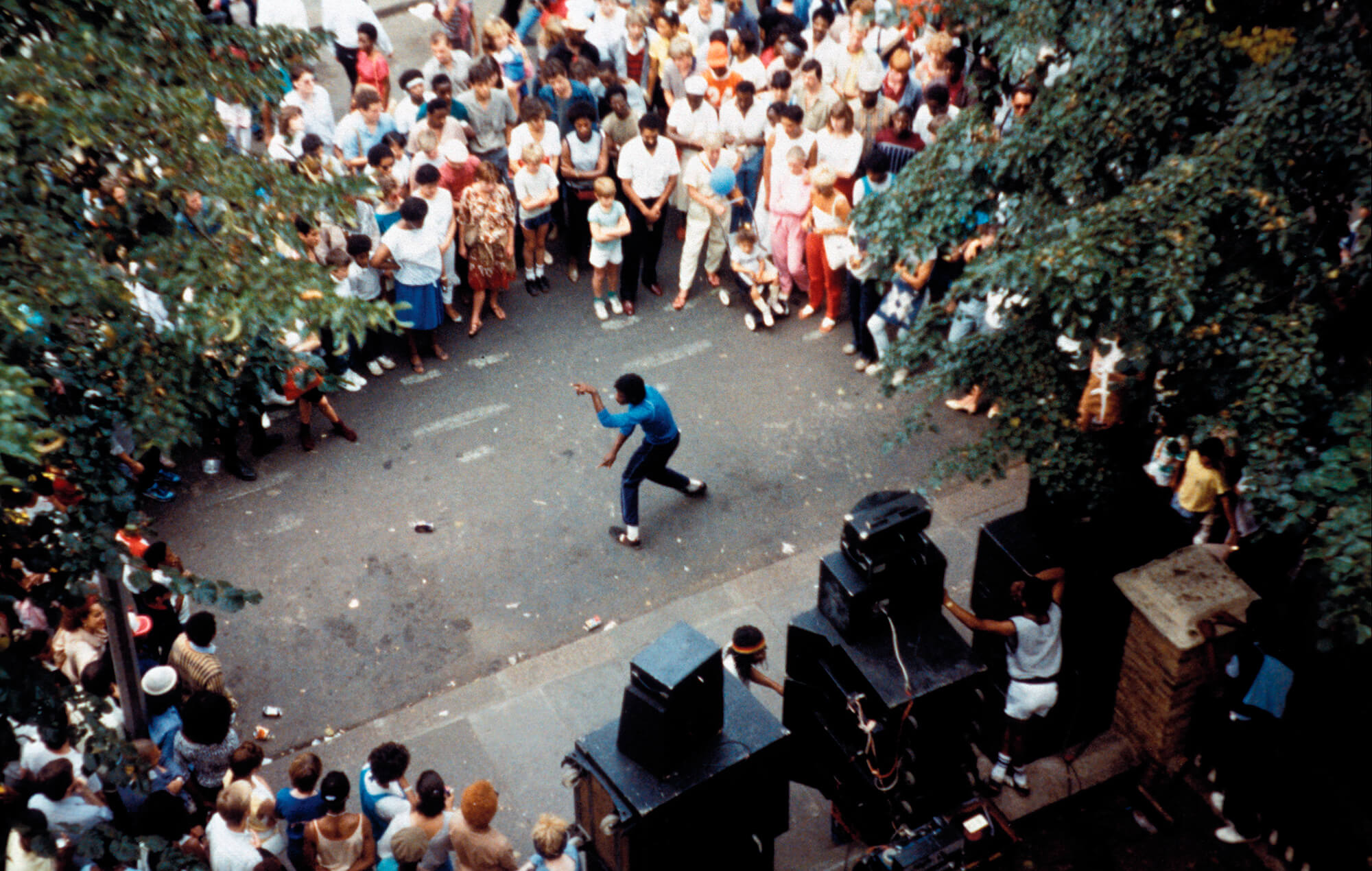 In partnership with Universal Pictures UK
Over the years, the Fast & Furious Saga has captured the powerful relationship between car culture and music in the US via soundtracks, street party scenes and the prominent role of musician cast members like Ludacris. This trend continues in the franchise's 10th film, the epic Fast X (hitting UK cinemas on May 19), reflecting a broader fascination with cars within rap music from across the pond. Whether it's the bouncing lowriders featured in videos from West Coast rappers like Dr. Dre ('Let Me Ride', 'Still Dre') or the popular Miami bass sound that boomed out of automobiles in south Florida in the 1980s, cars have featured heavily throughout the evolution of US rap.
But what role has car culture played in shaping music in the UK? In this oral history, NME takes you through some of the decisive moments.
Sound system culture takes root in the UK
The UK's very first sound system was reportedly set up by Duke Vin (aptly named like Vin Diesel) in 1955. By the 1980s, this core facet of Jamaican culture was firmly entrenched in many large cities across the UK. The tradition of DJs sparking street parties after loading up trucks with a generator, turntables and a huge, booming sound system was, however, more difficult to execute in rain-soaked British neighbourhoods. But the mobile aspect of sound system culture still played an important role in laying the foundations for generations of Black British musical innovation.
For over half a century, Notting Hill Carnival has celebrated this rich musical heritage, and automobiles have played an important role throughout: whether it's through portable sound systems being loaded onto lorries or cars, or simply as a means of transporting music gear as DJs and MCs looked to quickly pack up and move on to their next engagement. When Nigel Sterling of Metro Glory Sound System first played at Carnival in 1989, he "just drove up and played under a garage on Westbourne Park Road". This spontaneous, vehicle-centred burst of creativity would become so much more influential than he ever could have imagined.
Boy Racer culture embraces UK garage and bass music
A raw, intensely British sound that bridged the gap between house and jungle, UK garage soundtracked many UK towns and cities in the late '90s and early '00s. Crucial to its resonance across the country was 'Boy Racer' culture, a huge phenomenon that developed alongside UKG. Taking inspiration from the high-octane, music-driven motorised drama of the Fast franchise, this movement saw scores of young men modifying hot hatchbacks like the Vauxhall Corsa or Ford Focus with racing-style cosmetic, performance parts and, crucially, seriously ramped-up sound systems. Given the popularity of classic pirate radio stations like Rinse and Flex FM within this subculture, jacked-up, bass-heavy sound systems in cars played a massive role in intertwining automobiles with UKG and other genres that were built around the DJ and MC dynamic. In a Vice film on the scene, one young racer described his audio system as "the main interest in the car".
Affordability – "£50 could buy you a road-worthy Peugeot 205 that gets you to college, your mates through the McDonalds drive-thru and your crew to the rave," according to the Museum Of Youth Culture – was hugely important to this development. Modified cars became a status symbol, playing into UK garage's aspirational drive as working-class kids strived to create a better life for themselves: one built around fun, hedonism and heavy revving.
This section of society, fuelled by cult 'lad mags' and early editions of the Fast & Furious franchise, found freedom in the tyre smoke, subwoofers and pure adrenaline of 'Boy Racer' culture, and bass-heavy sounds like UKG, jungle, DnB and hip-hop were instrumental to this movement.
[embed]https://youtube.com/watch?v=OHZRHEJHS2k&feature=oembed[/embed]
'German Whip' pushes grime to the masses
When grime music exploded into mainstream culture in the mid-2010s, a generation of UK rappers began seeing unprecedented commercial success from an unapologetically rough, punchy and expressive Black British sound. Guided by pioneering figures like Skepta and Stormzy, the UK sound also proved super popular in the States, a fact proven by Skepta's collab with Pop Smoke for Fast 9 soundtrack hit 'Lane Switcha'.
There were various key breakout tracks – Skepta and JME's 'That's Not Me' being one – but perhaps the first grime tune to truly explode was Meridian Dan's 'German Whip', a collaboration with fellow north Londoners and former Meridian Crew members Big H and JME. Rapping "See man driving a German whip/Blacked-out window, leaning back", Meridian Dan's motorhead tune was a bit of fun, but it also documented a social rise as British MCs started to gather unprecedented material wealth and, understandably, took pride in it. Referencing Audis, Beamers and more (with the video featuring Dan himself whipping around north London in a Merc), the 2013 track peaked at No. 12 in the UK charts and was pivotal in bringing grime into the public eye. At the centre of it all, though, was the prevailing power of car culture in the UK.
Cinematic modern UK rap videos lean on the luxury car aesthetic
Spurred forward by the emergence of grime into mainstream culture, UK rap has gone from strength to strength in recent years: not just sonically, but visually too. Directors like Kaylum Dennis, Ashleigh Jadee and Teeeezy C have pioneered the launch of extremely slick, professional rap music videos, from M1llionz' 'Lagga' to Tion Wayne's collaboration with Dutchavelli and Stormzy, 'I Dunno'. Central to the high-end image cultivated in these videos is a heavy aesthetic lean on luxury cars: whether it's the bright blue lowriders of Digga D's 'Woi', the convoy of green Lamborghinis in Tion Wayne's 'Wow' or Central Cee's vlog-style 'Obsessed With You' video, which sees him and ex-girlfriend Kenza zipping down the motorway in a Mercedes CLA.
In the last couple of years, luxury car brands have made efforts to tap into this relationship. The video for 'Clash', Dave's 2021 collaboration with Stormzy, saw the pair head to Aston Martin's Warwickshire headquarters and pose on the production line, before taking to the UK's legendary Silverstone circuit and racing around in a limited edition V12 Speedster. Underlining the bolstered new ties between UK rappers and big car manufacturers, Stormzy spits: "Dave's got the new Aston Martin plug, could you send me one?/He said, 'No need to be rentin' one'/Big Flex is inventin' one". Described by Aston Martin as "a real cultural moment that will bring our brand to a new and younger audience," the video truly typified how intertwined car culture and UK rap music have now become.
'Fast X' is in cinemas on May 19
The post Road rap: how car culture has shaped UK hip-hop appeared first on NME.