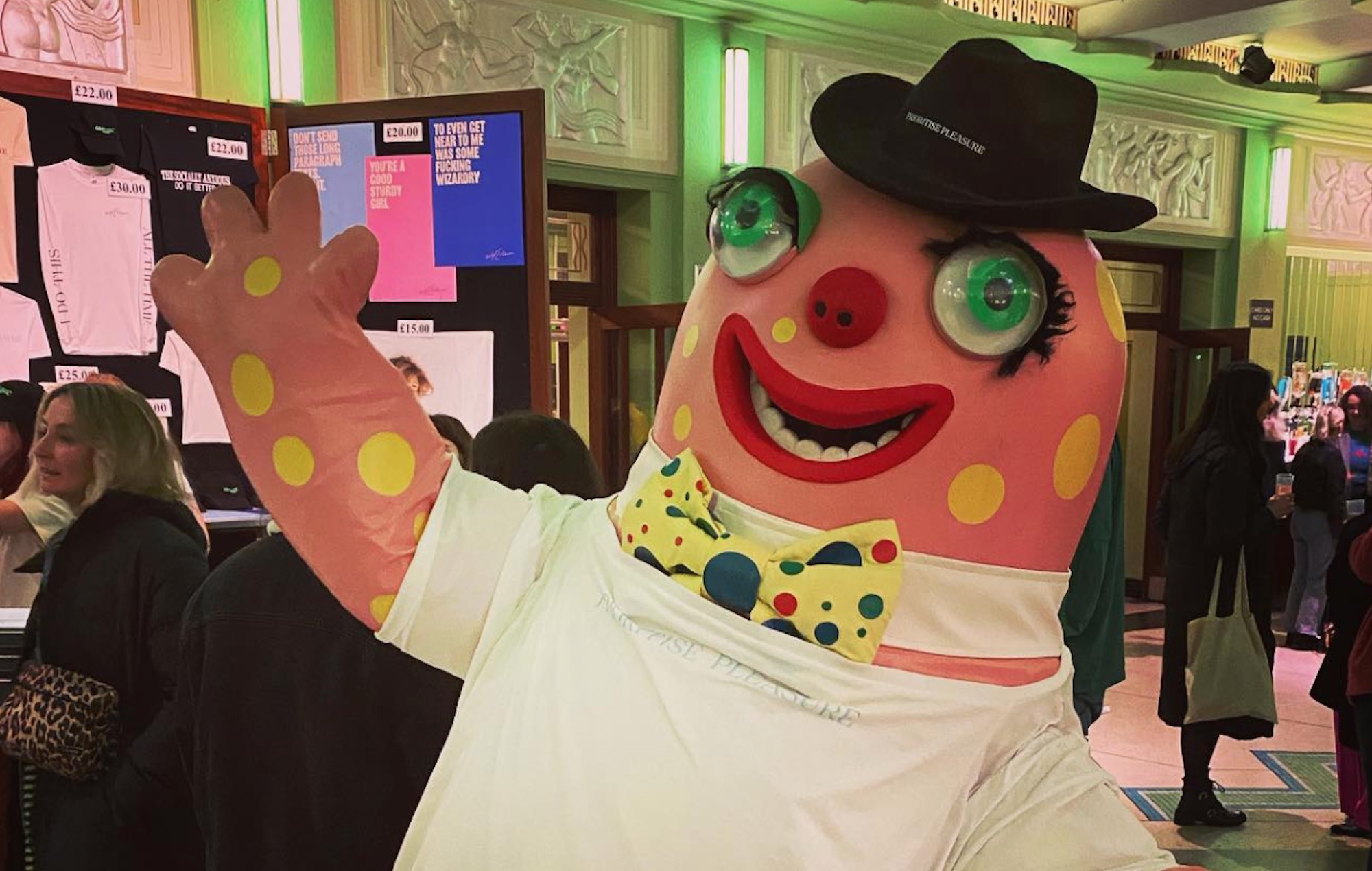 Self Esteem was joined by quite the special guest at her Hammersmith Apollo gig in London tonight (March 17) – watch her welcome Mr Blobby to the stage below.
In the show's encore during her track 'The Best', Rebecca Lucy Taylor welcomed the '90s childhood icon on stage, who proceeded to shred a guitar and dance with Taylor and her band.
Discussing the time she met Mr Blobby while appearing on The Big Breakfast, Taylor told NME last year: "It doesn't get better than that, does it? That day when I met Mr Blobby… I don't need anything else now. You know they used to put the voice on it? The vocoder? Obviously they didn't have that, so the guy in the suit was trying not to make any noise. When I hugged him he'd just be like, 'blobby blobby' in a normal man's voice. Poor guy."
Asked what the pink and yellow icon was like, she replied: "Sexy, sort of interesting, shorter than you think!"
Watch Mr Blobby join Self Esteem in London below. Ahead of the show, he shared photos of himself outside the gig on Instagram and wrote: "I've got my shirt and my VIP tickets!! I can't wait to watch my favourite [Self Esteem]."
Mr Blobby just came on stage during the encore at Self Esteem, I absolutely love it pic.twitter.com/YPIOWG7R6v

— Fred Nathan (@FreddieNathan) March 17, 2023
"Yah yah, I'm at South By, how about yah?"@SELFESTEEM___ @mr_blobby pic.twitter.com/OUnv4FDLhM

— AndrewTrendell (@AndrewTrendell) March 17, 2023
As I was going past the Hammersmith Apollo for tonight's Self Esteem gig I thought I saw a guy being ejected from the venue for dressing as Mr Blobby. But no – it was actually Mr Blobby. pic.twitter.com/nzSGJ4Rd4i

— Jonathan Sloman (blue tick in post) (@SquidyUK) March 17, 2023
ok @SELFESTEEM___ feat. Mr Blobby wasn't on my 2023 bingo card but there we go pic.twitter.com/LfjtF39TjF

— Tamsin Selbie (@TamsinSelbie) March 17, 2023
The collaboration we never knew we needed @SELFESTEEM___ x Mr. Blobby pic.twitter.com/8l9IKx5y1m

— Twin Made – Offical Sport Knitter (@Twin_Made) March 17, 2023
Mr. Blobby touched down at the @SELFESTEEM___ show pic.twitter.com/cMkmKuOW80

— mitch (@limitedmitch) March 17, 2023
OH MY DAYS MY LIFE HAS PEAKED!! Just met my childhood hero!! Never been so starstruck. #blobby #life #selfesteem pic.twitter.com/KZByuaAIfj

— Hankles (@HeinzJunkins) March 17, 2023
Self Esteem is currently on her sold out UK tour 'I Tour This All The Time', which began in Nottingham and Dublin last month and saw her debut a pair of brand new songs.
Reviewing the Oxford date of the tour, NME wrote: "At the end of Self Esteem's latest headline show in Oxford comes a moment of pure joy. With the encore wrapped up and bows taken, Shirley Bassey's 'This Is My Life' starts blasting through the speakers.
"On stage Self Esteem (real name Rebecca Lucy Taylor) and her band break into dance and begin singing along, imploring their audience to join in. It's an apt way to end an infectious performance that's already been filled with ample moments of catharsis and ecstasy."
At an earlier London gig on the tour, Self Esteem showed her support for Gary Lineker by wearing a t-shirt emblazoned with the words "Free Gary" amid a row between the BBC and Lineker after the latter called the government's controversial plan to ban people arriving in the UK illegally from ever claiming asylum an "immeasurably cruel".
See Self Esteem's remaining UK tour dates, including a fourth and final London show, below.
MARCH 2023
18 – Albert Hall, Manchester
21 – O2 Academy Sheffield, Sheffield
22 – Albert Hall, Manchester
25 – Eventim Apollo, London
[embed]https://youtube.com/watch?v=EbohOLUx1uo&feature=oembed[/embed]
Elsewhere, the winner of an eBay auction for an original Mr Blobby costume then backed out just an hour after bidding £62,000 for the item back in January.
The costume was originally listed on the site for £39, but the price soon increased after attracting attention online.
The seller, a former BBC employee who wished to remain anonymous, said they were not surprised when the winning bidder withdrew their offer.
The post Mr Blobby joins Self Esteem on stage at Hammersmith gig appeared first on NME.