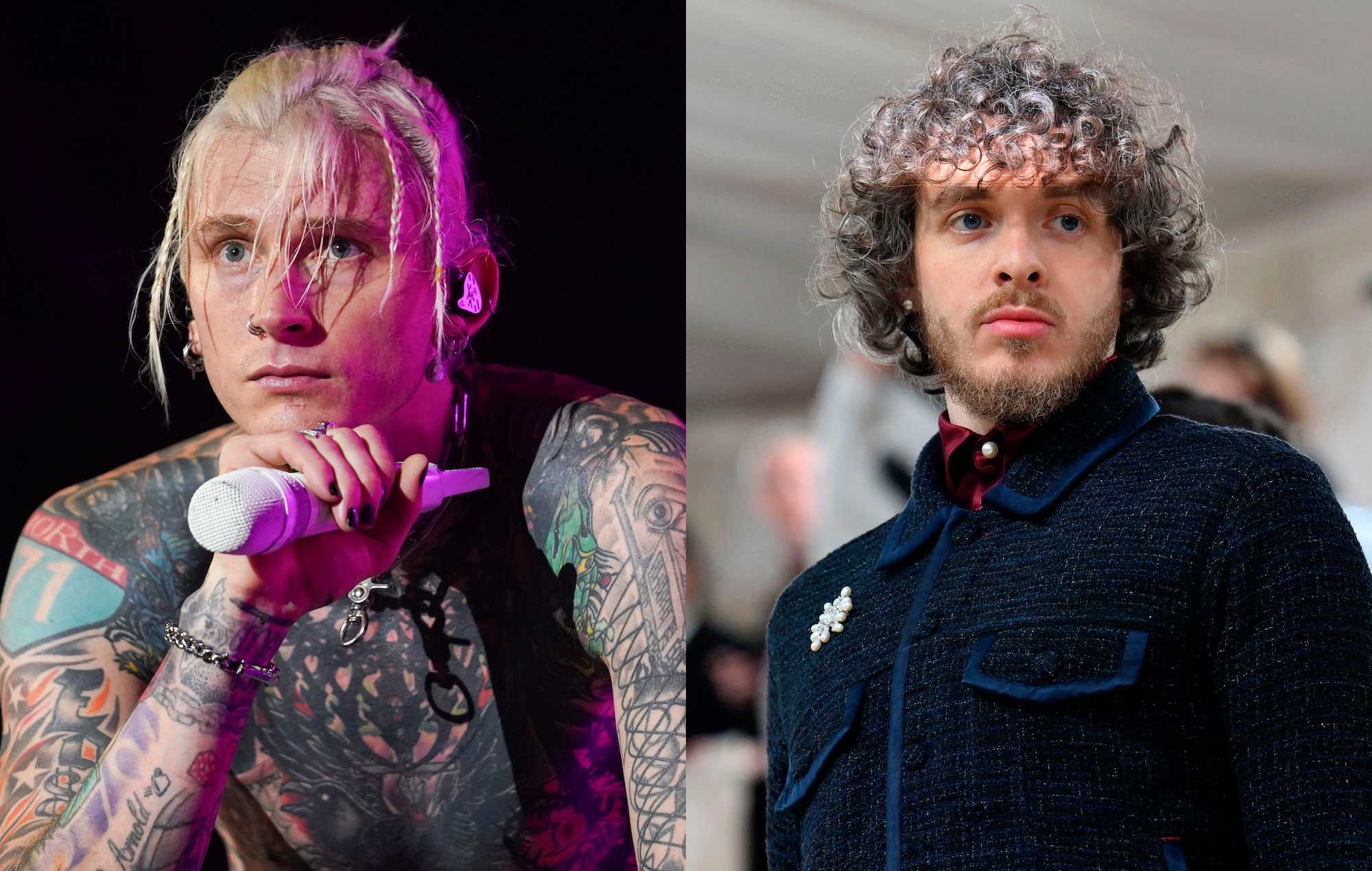 Machine Gun Kelly has taken aim at Jack Harlow on a new freestyle that sees him rapping over a Jay-Z instrumental – check it out below.
On 'Renegade Freestyle', Kelly – who is famous for his many musical beefs, including with Eminem – questions Harlow's recent claim that he's the second best white rapper after Marshall Mathers.
On his track 'They Don't Love It' from new album 'Jackman', Harlow sings: "The hardest white boy since the one who rapped about vomit and sweaters / And hold the comments 'cause I promise you I'm honestly better / Than whoever came to your head right then."
It appears that Kelly has taken the boast personally, replying on 'Renegade Freestyle':  "Make sure there's no confusion / I'm a great white, I can eat their barracudas. I see why they call you Jackman / You jack man's whole swag / Give Drake his flow back man."
Listen below.
[embed]https://youtube.com/watch?v=6fjYjdxfITE&feature=oembed[/embed]
'Jackman' arrived last Friday (April 28) just two days after it was announced. It's the follow-up to Harlow's Grammy-nominated 2022 album 'Come Home The Kids Miss You', and comes ahead of his starring role in a new remake of White Men Can't Jump. That will stream on Hulu in the US (and Disney+ internationally) on May 19.
Eminem and Machine Gun Kelly have exchanged many beefs over the past couple of years. In 2020, Kelly released a new track called 'Bullets With Names', on which he seemingly bragged about having "killed" Eminem.
Other shots include Kelly's track 'Rap Devil', on which he referenced Eminem's sobriety and age, and was recorded in a locker room immediately after hearing a diss against Kelly on Eminem's 'Kamikaze' album.
Slipknot's Corey Taylor has also entered a beef with "weird substitute teacher" Machine Gun Kelly in recent years, which began with MGK hitting out at the metal legends at Chicago's Riot Fest, saying onstage: "You wanna know what I'm really happy that I'm not doing? Being 50 years old wearing a fucking weird mask on a fucking stage, talking shit."
His onstage diss came after Taylor appeared to dismissively allude to Kelly in an interview earlier this year: "I hate all new rock for the most part. I [hate] the artists who failed in one genre and decided to go rock and I think he knows who he is."
The post Machine Gun Kelly disses Jack Harlow on new freestyle appeared first on NME.