The worldwide buzz from Germany is being felt largely because of this family right here. LifeLive Festival is going off March 13th in true club fashion with 5 floors to bounce around. The latest cutting edge live streaming platform Livelife.io allows attendees to video chat, order drinks to each other's home with a drink taxi (Berlin Residents Only) and shuffle from stage to stage. Keeping things tight, scene-oriented there will be a limited 5,000 tickets available to witness this monster lineup.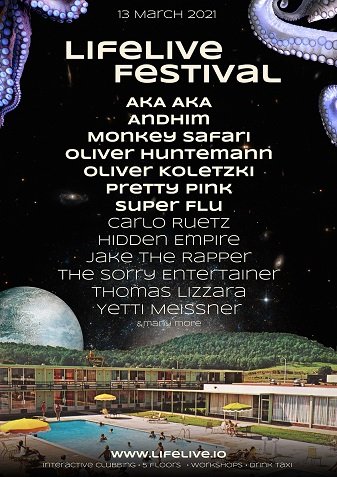 2 Girls 1 Club, Acid Foxy, Aka Aka, Andhim, André Winter, Carlo Ruetz, Frederik Lechner, Hidden Empire (Stil Vor Talent), Jake The Rapper, Jil Tanner, Kaiser Kuba, Louisiane, Maksim Dark, Monkey Safari, Monoabe, NenaHalena, Oliver Huntemann (Senso Sounds), Oliver Koletzki, Pretty Pink (Deep Woods), Serioes & Legendaer, Super Flu (Monaberry), The Sorry Entertainer, Thomas Lizzara, Viktor Talking Machine, Yetti Meissner, YouNotUs and many more…
thatDROP's LifeLive Festival Playlist
Lifelive.io encourages event and festival curators to run their next occasion on the platform. The founders Daniel Breyer and Felix Reiter explain, "with this, we want to send a signal and give hope. We are musicians ourselves and know how it is for the creative scene after a year without events and events. With LifeLive.io and our festival we want to make our contribution to overcoming the crisis. But in perspective, we also want to show festivals and clubs new paths."
Daniel Breyer and Felix Reiter have been working together for years – as music producers and DJs within their project Acado. Hit by Corona as anyone they decided to do their part in helping culture to survive.
Lars Kaemmerer, responsible for the business development and owner of the accompanying agency Push Hard PR shares, "For us, LifeLive.io represents the future of the event industry, be it currently in the event landscape restricted by Corona or also regularly as a hybrid addition to reach additional digital visitors of a real event taking place worldwide. We are therefore incredibly proud to have been able to support the company since its inception."
LifeLive Online: