The Life Is Beautiful 2021 lineup has arrived. Party-goers are swarming as the eminent Las Vegas music festival announces a promising lineup secured for 2021 dates. Whimsical and tasteful, this event is eye-candy, medicine for the heart and soul, and literally music to the ears. Knock on wood twice, if all goes well, this will be the place to be September 17th-19th.
Life is Beautiful 2021 Lineup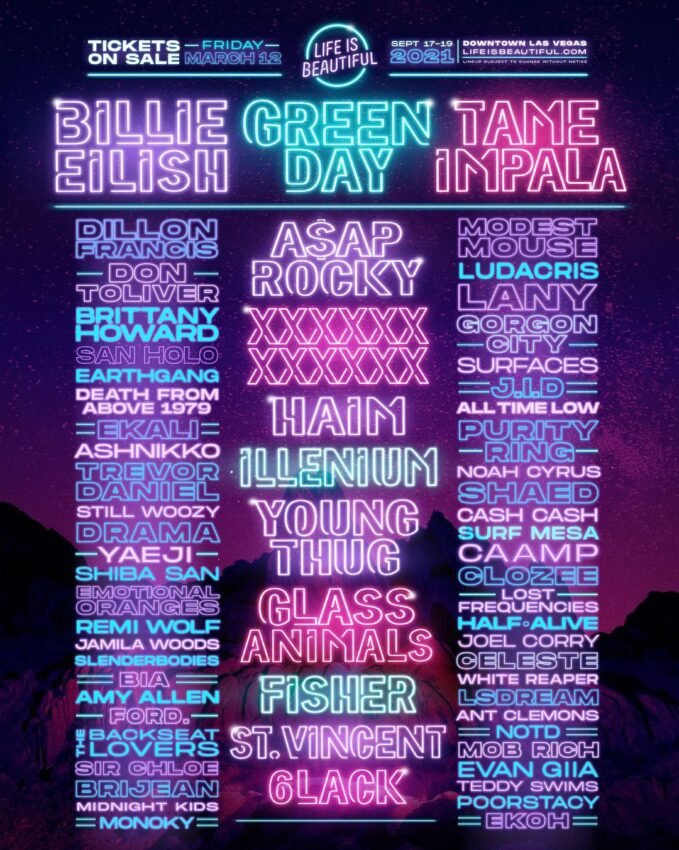 After waking up to THIS on our Instagram feed, it's safe to say that our hearts are going pitter-patter, pitter-patter. If you're a Tik Tok user, and we know you are, you know where that reference is from―period. But for real though, let's talk about these artists. Trust us when we say, we will go off while Dillon Francis is playing 'Go Off', we will feel good while Illenium is playing 'Feel Good', and when NOTD plays 'So Close'… you KNOW we will be singing that to all of our loser-ex's who wish they were there with us.
Pre-COVID, over 195,000 revelers fueled the three-day event stretching across Freemont Street. With three stages and a handful of activations where attendees are constantly interacting, it will be interesting to see how the traditional formatting morphs to fit CDC guidelines. Alongside any adaptations, confidently purchase your ticket knowing that the LIB community stays committed to the health and safety of its fans.
Set your alarms for 10AM PT on Friday, March 12 because that is when tickets are officially open to the public. Similar to the years prior, there are a handful of tiers and packages to choose from. For more information on Life Is Beautiful 2021, click here.
Life is Beautiful Online: