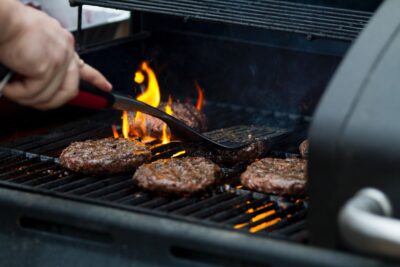 Summertime and good friends go together like burgers and buns. With school out and the sun setting later, it's the perfect opportunity to gather your loved ones for a day or evening of festivities, laughter, and fun. Fire up the grill, grab some refreshing drinks, and let the good times roll at your summer cookout!
Here are a few tips for hosting a safe, fun summer barbeque.
Plan Ahead
Planning can save you from having problems later. This includes planning out your menu, guest list, and activities. You'll also want to ensure that you have enough seats for everyone, a place to set the food, and shaded areas if the event is during the day.
Plan for great weather, but always have a backup plan in case the weather doesn't cooperate.
Keep It Simple
Most of the fun at a party is the time spent with friends and family. That means the host needs to be available and not too busy. You can achieve this by serving simple food, so you'll have more time with your guests and less time cooking.
Hot dogs and hamburgers

Grilled chicken

Veggie skewers

Corn on the cob

Potato salad

Watermelon slices
These foods are easy to prepare, making it easier for you to socialize and be a great host!
Keep Away the Bugs
Bugs are a nuisance at any outdoor party where food is involved. If you have the party close to evening time, you'll have to contend with mosquitoes, too. There are several ways to keep the most common bugs away from the cookout and you can do so by using natural methods.
If you're worried about mosquitoes at night, you can light the corner of an old cardboard egg carton and set it on the grill to smolder. The smoke keeps them away.
During the day, you can keep ants from crawling on the table by placing a dryer sheet under each table leg. The ingredients in dryer sheets are said to repel ants.
Arrange for Activities
If you expect children to be present, it's advisable to have kid-friendly activities planned. If it's a hot day, you could prepare some water activities for the young ones. Get out the slip-n-slide or arrange for a water balloon fight.
You can also have some games like horseshoes, corn hole toss, volleyball, frisbee, and so on. You can determine the type of games based on the ages of your guests.
If your neighbors aren't the type to complain about noise, why not bump up the party by hiring a DJ to spin some tunes? And who knows, you might even convince your neighbors to join the party!
Stay Safe
Anytime you have people in your home or on your property, you want to ensure they stay safe and no one gets hurt. This could be anything from someone falling on the property, getting bitten by an animal, drowning in a pool, or something else. Conduct a thorough risk assessment of your premises a few days before, identifying potential hazards and taking appropriate measures to address them.
For further peace of mind, make sure your home insurance policy is up to date, with special attention paid to the liability section. Freeway Insurance Reviews show excellent ratings for helping people find affordable home insurance. If you have any questions about your coverage needs, give them a call.
Sizzle into a Summer Cookout
Now that you have these tips, you're ready to sizzle up some fun in the sun (or the sunset). Prepare your grill, make your guest list, and get ready to make memories this summer!
The post Host a Great Summer Cookout appeared first on EDM | Electronic Music | EDM Music | EDM Festivals | EDM Events.