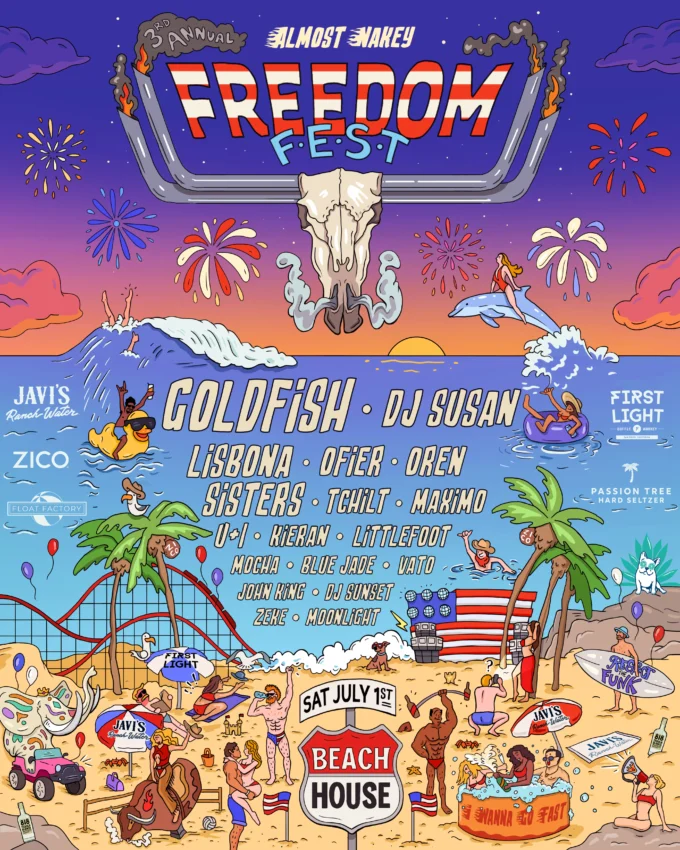 The Fourth of July is quickly approaching for us in the states and there are a number of shows and events to help you celebrate. If you find yourself in San Diego on July 1st you won't want to miss Almost Nakey's 3rd annual Freedom Fest at Beach House in Belmont Park from 2PM-10PM. Mix the ocean breeze and sand, with amazing tunes and delicious drinks. Dance in the sun or watch the moon rise with artists such as the South African instrumentalists Goldfish, DJ Susan, Lisbona, OFiER, Littlefoot and plenty of more.
From the headliners to the new and emerging acts, Freedom Fest is a day that will captivate your senses and ignite your engine. Live performances, breathtaking visuals, and captivating art installations will transform this beachside venue into an all day party. Get ready to dance your heart out, embrace your friends, and celebrate what makes this country great.
Experience the euphoria, the connection, and the freedom that only music can bring. Mark your calendars, gather your crew, and prepare for an unforgettable beachside adventure at Freedom Fest.
The curators, Almost Nakey, shared more exciting details about Freedom Fest,
Massive Main Stage – LED American flag with 50 disco balls for the stars is the backdrop from our mega headliners. Prepare for huge inflatables, overhanging stars, and the biggest, baddest, proudest sound system gifted by our founding fathers.
VIP Terrace – You've mastered the dance floor makeout. Now it's time for private lounges, bars pouring it up just for u + ur red, white, and boo thangs.
The NEW VIP area on Coaster Terrace overlooks Beach House main stage. VIP includes lounge, private bars, VIP bathrooms. Drinks are not included.
VIP Cabanas & VIP Tables – To reserve email Bri – [email protected] – these will go fast & I promise, you want this to be you.
Dress Code – Wet & Wild Americana – American Flag bikini tops, cowboy hats, bedazzled american flag tank tops, belly rings, & jorts are safe ground here.
Donation to Wounded Warrior Foundation –  Percentage of your ticket sales to support the veterans that fight for our country to keep it free.
After Party – Details coming soon!
The post Freedom Fest: An Ocean Front Fourth of July Pardise in San Diego [Sold Out] appeared first on EDM | Electronic Music | EDM Music | EDM Festivals | EDM Events.