Deep Root Sessions says bon voyage this July as they embark on the NYC river for a special #UnitedByMusic Live Stream on The Pangaea Yacht, broadcasting every Friday this month on thatDROP's facebook.
United by Music is dedicated to providing relief funds to those impacted by COVID-19. Support by Radio FG & The Grammys: Tube & Berger, Leftwing : Kody, CID, OFFAIAH, Nexie, Moon Boots, Francis Mercier and Dean Mickoski, these sessions curated by Deep Root Records have been packed with the freshest sounds in deep, tech and soulful house.
Francis Mercier, the prolific New York artist and founder of Deep Root Records, gets behind the wheel first this Friday, July 10th, then next Friday brings the world-renowned, Deep Roots Records, Armada Music and Subliminal Records Producer, Dean Mickoski, the Friday after next showcases the Puerto Rican, afro and deep house, New York favorite, Layla Benitez.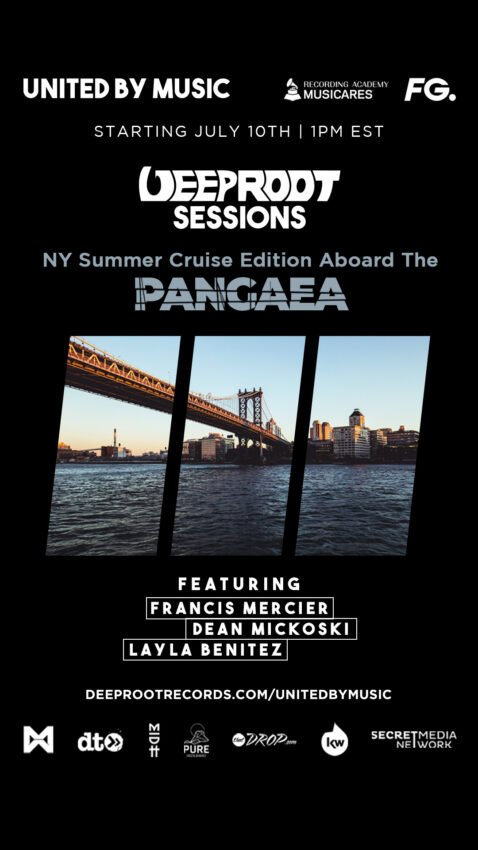 A closer look at Francis Mericer: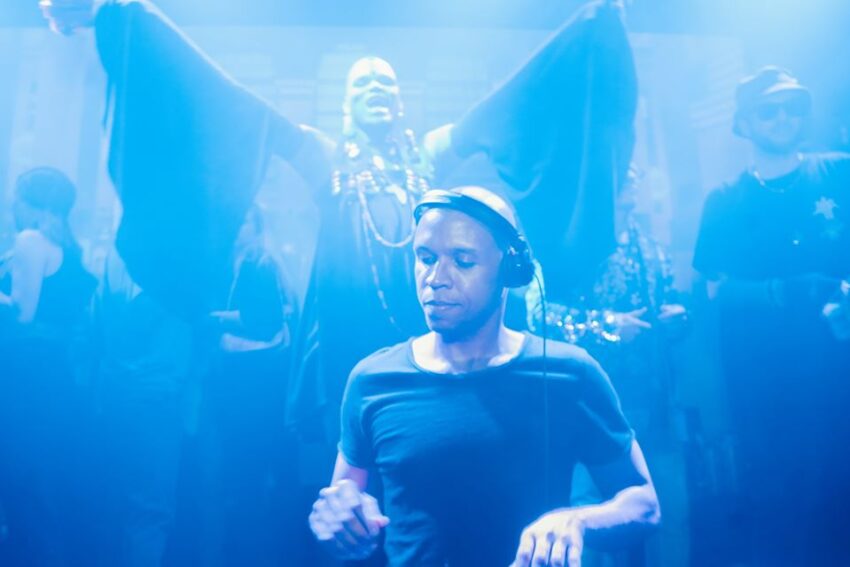 Ivy League graduate Francis Mericer's style of music comes from a childhood in Haiti, studies at Brown and the New York City underground scene. Offering a highly danceable and unique selection of deep, melodic and tech house, Francis has found himself warmly welcomed to the best events in the world from the US to Serbia, alongside the likes of Chris Lake, Oliver Heldens, Afrojack, The Chainsmokers, Roger Sanchez, Lost Frequencies, Kygo, Milk & Sugar, Nicky Romero, and Macklemore. 
Notable records from Mericer include, 'The Whole World', 'Skankers', 'Shakin It', and 'Waiting For' peaking at #5 in the Deep House Genre on Beatport. While dance music icons such as Tiësto, Pete Tong, Erick Morillo, Diplo, Skrillex, Oliver Heldens, Don Diablo, Dillon Francis, and Shiba San have supported his collection.
A letter from the Deep Root Family: 
For the past five years, Deep Root, its founders, and its team members have devoted all of their energy to provide musicians and entertainment professionals a home where they can freely express themselves. The imprint is currently cemented as one of the driving forces behind the presence of Dance Music in Manhattan, and behind the success of many artists within the world of Sync & Licensing.
Today, we consistently work with a family of 60+ DJs & Producers, 25+ Promoters, and 15+ Freelancers who contribute day in and day out to their respective communities (worldwide) by creating memorable and positive experiences, through musical composition, nightlife production, hospitality, and visual arts.
However, over the past few weeks, the COVID-19 pandemic has tragically impacted all of the nightlife, entertainment, and hospitality community. We're now asking for the generosity of our supporters to help us assist our family of artists and entertainment professionals who are now in need.
To combat this crisis, we are holding the #UnitedByMusic fundraiser and are humbly asking for your contribution. We will be providing 50% of the donated funds to our team members, artists, and family of promoters and freelancers, facing hardship and obstacles including, but not limited to, emergency healthcare expenses, rent or mortgage payments, utilities, food, and other necessities. The other 50% of proceeds will go directly to The Recording Academy's non-profit MusiCares, to provide preventative, recovery, and emergency assistance for the health and well-being of all musicians and music professionals in need during this time.
In an attempt to raise as much as possible, Deep Root will be holding a series of Live Streams (on some of the world's biggest outlets such as Radio FG and Asmallworld to name a few) with world-renown artists, and will be supporting this campaign by donating:
#1 Largest contributor gets a 2 year pass to any and all Deep Root Sessions Branded Shows (Yachts, Clubs, Festivals, etc) with a meet & greet of the performing artists. *Min. $500
#2 – 2nd largest contributor gets a free table for 1 night at any Deep Root Sessions Branded event
#3 – Largest contributors 3 – 5 will receive a 1-year complimentary pass to all Deep Root Sessions Branded shows
#4 – 2 other contributors will be randomly selected for a 1-year complimentary pass to all Deep Root Sessions Branded shows
If you're unable to donate, please consider sharing this campaign with your friends and family! If you are part of our work family, or are a DJ / Producer, Promoter, or Creative based in NY and are affected by Covid-19 get in contact with us for relief – APPLY HERE! 'For The Love Of House' let us work to get through this pandemic together.
For more information about the #UnitedByMusic movement, please contact [email protected] 
Thank you,
Deep Root Family
#UnitedByMusic