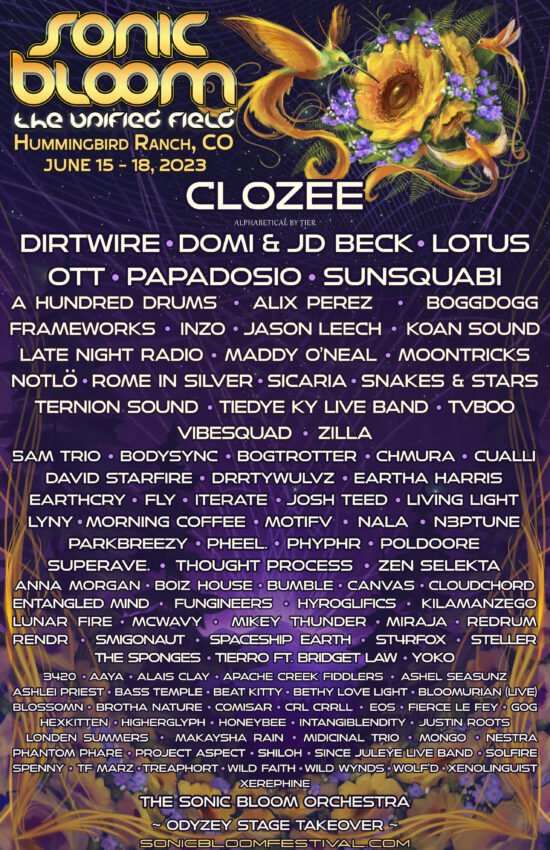 Colorado's staple music festival, Sonic Bloom arrives next week to the longtime home of Hummingbird Ranch in Rye.  The 16th edition sees sets from revered artist in the psychedelic dub and jam band scene, melodic dance music, house music and beyond that will have people dancing out of their shoes and taking a progressive sonic journey that will please the mind.
As being one our favorite festivals, today we shine light and stay up-to-date with the music that make up the Sonic Bloom 2023 lineup.
Ott:
Ott is an acclaimed British electronic music producer and sound engineer known for his unique blend of psychedelic dub and ambient music. His intricate and ethereal soundscapes have captivated listeners worldwide, making him a revered figure in the psychedelic and downtempo music scene alongside Shpongle.
Lotus:
The Colorado favorite, Lotus seamlessly fuses elements of jam, electronica, and rock to create a vibrant and improvisational sound that lifts you away. With their tight musicianship and energetic live performances, Lotus has built a dedicated fanbase and established themselves as a prominent force in the contemporary jam band scene. Check out their latest album, Bloom & Recede.
Clozee:
The beloved French electronic music producer and DJ, Clozee is a known for her genre-defying sound that combines elements of bass music, world music, house and glitch-hop. With her intricate production style and captivating live performances, Clozee has gained international recognition and a devoted following. Here is her latest forward-thinking blend with Ganja White Night, 'Infinity'.
Frameworks:
UK's Frameworks is an electronic music project helmed by producer Matthew Brewer, known for his atmospheric compositions that blend elements of downtempo, trip-hop, and disco. With a keen focus on intricate melodies, rich textures, and evocative beats, Frameworks creates immersive soundscapes that evoke a wide range of emotions.
Nala: 
One of Dirtybird's most diverse artist, Nala has developed her distinct sound using deep bass-lines and melodies that creates an amazing dance atmosphere. Travel across the BPM spectrum with her and get a taste of her unique style. With Intricate percussion and driving beats she folds it all into perfect harmonies, transitions, and energy.  Don't overlook this one.
Inzo
Inzo tho, a talented electronic music producer hailing from Chicago, known for his emotionally charged and melodic productions. With his distinct style that blends elements of future bass, trap, and progressive house, Inzo has garnered widespread acclaim and a devoted following in the electronic music community.  Enjoy Inzo's latest body of work, 'Solstice' featuring a collaboration with Elohim.
Sunsquabi: 
Sunsquabi, the psychedelic jam band from Colorado, plays a pivotal role in the Sonic Bloom lineup, captivating audiences with their vibrant and exploratory performances. Their fusion of funk, rock, and electronic music creates a dynamic and immersive experience, making them an essential and highly anticipated act at the festival. Check out their latest album, Arise.
Zilla:
With Sonic Bloom's Founder, Jamie Janover's mastery of the hammered dulcimer, beats by Michael Travis from String Cheese Incident and  Aaron Holstein from VibeSquaD's collective expertise in electronic and experimental genres, Zilla delivers captivating performances that blend organic and electronic elements, leaving audiences in awe of their innovative sound.
While today we scratched the surface of the expansive, 4-day lineup, we encourage you to sample the official Sonic Bloom 2023 Lineup Playlist and simply follow your ears throughout the incomparable festival because you never know who will emerge among your favorite sets. Join the Sonic Bloom community online to share the excitement for the upcoming week.
Sonic Bloom 2023 Lineup Playlist
The post Colorado's Premiere Festival, Sonic Bloom Arrives for 16th Edition [Lineup Preview] appeared first on EDM | Electronic Music | EDM Music | EDM Festivals | EDM Events.