Bass Coast is pleased to present: Pixel Virtual Festival on July 9-11, 2020. The online programming will take place on the same dates that Bass Coast Festival had been scheduled before cancelling due to COVID-19.
Free to attend, Pixel Virtual Festival will feature innovative DJ sets, movement workshops, a panel discussion on anti-racism, a workshop on mental health, an art installation discussion panel, and the opportunity for the festival community to connect with each other online. Check out the lineup that just dropped.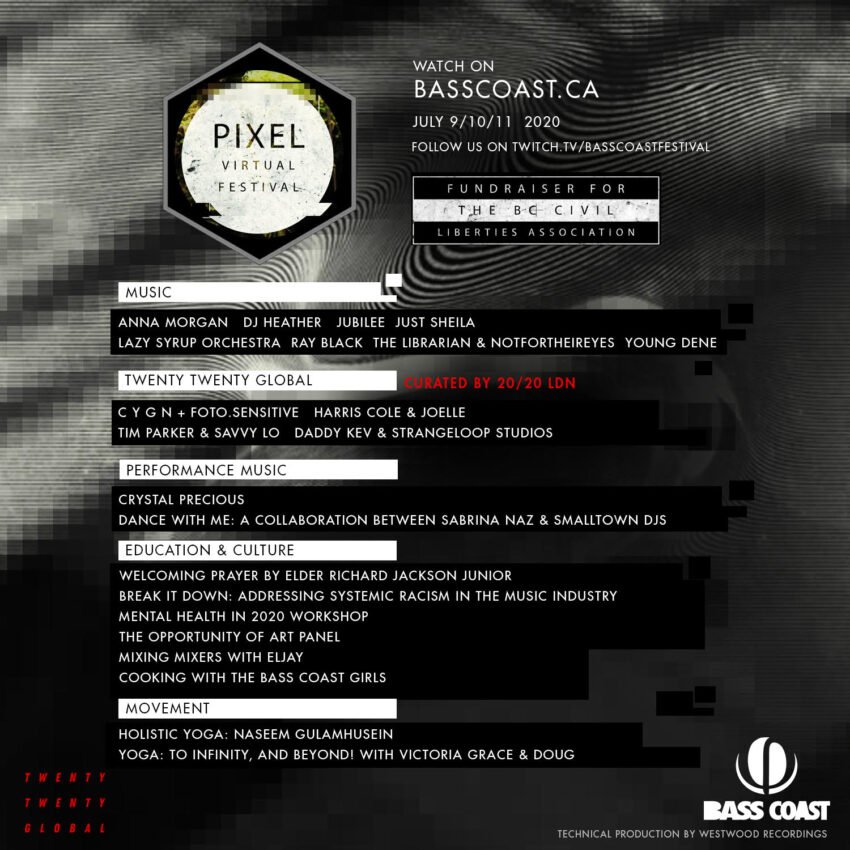 "Bass Coast isn't just a weekend festival, it's a culture that thrives year round. With the cancellation of all festivals this summer it's more important than ever to gather," says Bass Coast co-founder Liz Thomson. "We thrive on connection and Pixel Virtual Festival gives us a platform to interact with each other online while experiencing the best of Bass Coast: thoughtfully curated music and thought provoking workshops."
Participants will have the option to donate to the BC Civil Liberties Association.  "We acknowledge electronic music is a culture invented and nurtured by black and queer artists, and will be raising funds for the BC Civil Liberties Association,"  says Andrea Graham, Co Founder of Bass Coast Festival. "They are the oldest and most active human rights organization in Canada. This is an essential organization at this time because their mandate is to promote, defend, sustain, and extend civil liberties and human rights in British Columbia and Canada."
Special programming on July 9th will be co-hosted by Twenty Twenty Global – a digital residency curated by the team at 20/20 LDN Recordings. The team broadcasts a weekly magazine of Hip-Hop inspired Electronica / Alt Rap / Leftfield Bass / Visual Arts / Dance.