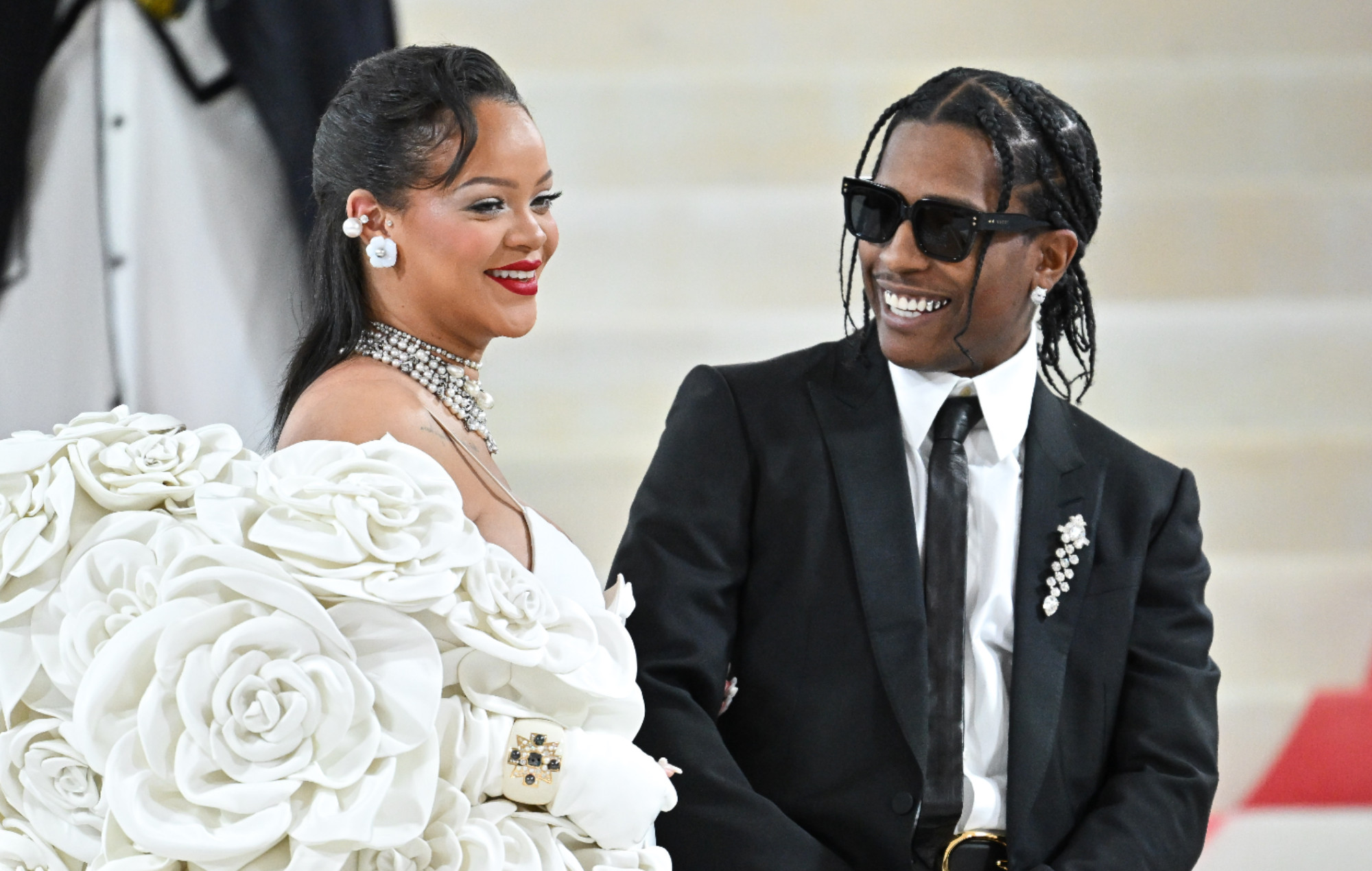 ASAP Rocky has stirred up speculation that he and longtime partner Rihanna have got married due to the lyrics of his new single 'Riot (Rowdy Pipe'n)'.
Page Six reported that the musical couple made their relationship official in December 2020. The following year, in an interview with GQ, Rocky called the Barbadian singer "the love of his life." He and Rihanna welcomed their first son, RZA, in May 2022 and are currently expecting another sometime this year.
This week, ASAP Rocky officially released the rambunctious single 'Riot (Rowdy Pipe'n).  Produced by the rapper alongside Pharrell Williams following a partial leak in 2021, the track – while not naming Rihanna by name – features the lyric: "My wife is erotic, I'm smokin' exotic."
A number of fans online have since been discussing whether or not this means the pair are wed.
[embed]https://youtube.com/watch?v=pPFgxRkcGds&feature=oembed[/embed]
In June, Rocky also called Rihanna his wife when before performing the Tame Impala-sampling song 'Sundress' at the 2023 Cannes Lions International Festival of Creativity. He told the crowd: "I'd like to dedicate this song to my beautiful wife in the motherfucking building! I love her."
Both Rihanna and ASAP Rocky are yet to confirm the marriage rumours.
'Riot (Rowdy Pipe'n)' is the second single from ASAP Rocky's fourth studio album. In an Amazon Music Live Thursday Night Football event last December, he shared the album's name and three unreleased tracks, including 'Riot' and 'Same Problems?'. The latter was released back in January – on the day his late friend and A$AP Mob leader A$AP Yams passed away, aged 26, of acute mixed drug intoxication.
A$AP Rocky announces his new album 'Don't Be Dumb' & preforms three new songs on Amazon Music Live #asaprocky pic.twitter.com/PZe1MAp5ui

— mrsawge (@mrsawge11) December 9, 2022
Last November, the 'Praise Da Lord' star made an appearance in the trailer for the cel-shaded video game Need For Speed Unbound and contributed to its soundtrack with 'Shittin' Me'.
In January, the rapper celebrated the 10th year anniversary of his major label debut album 'Long.Live.A$AP' with a reworked 'Angels' music video called 'Angels Pt. 2'. Meanwhile, in May, he told club-goers off for being too rowdy in the presence of Rihanna. The New Yorker stated that they should "act like gentlemen when [they are] in her presence."
Meanwhile, last month saw Rihanna become the first woman to have 10 songs reach one billion streams on Spotify. She celebrated on Instagram by reminding fans that she did it "wit no album," having not released one since 2016's 'ANTI'. In the same month, she also made the Forbes' Richest Self-Made Women list alongside Taylor Swift, Beyoncé and Barbra Streisand.
Earlier this month, Wu-Tang Clan member RZA commented on Rihanna and ASAP Rocky naming their son after him. He told CNN that it was "it's an honour and I salute her and A$AP and their family."
The post ASAP Rocky reignites Rihanna wedding rumours on 'Riot (Roddy Pipe'n)' appeared first on NME.